It should protect the user from the outside world and increase his productivity.
Cooler Master, which specializes in gaming accessories, has announced a module called Orb X. This capsule is designed to replace the usual workplace with a computer, it is aimed at gamers, but also suitable for work tasks. The Orb X "multi-function station" looks like a prop from a sci-fi movie, it makes the workplace almost isolated from the outside world and, according to the creators, helps gamers and professionals "stay productive."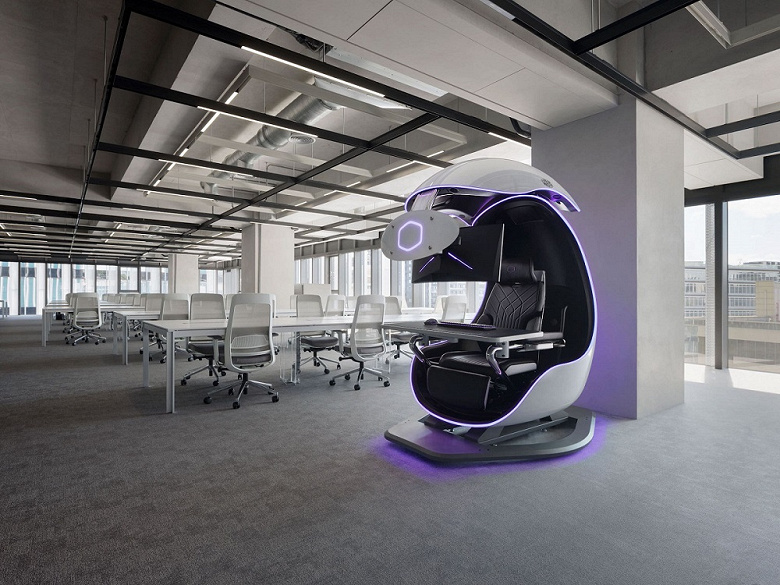 The model is equipped with a leather chair that leans back, has an adjustable headrest and footrest. Achieve more privacy and keep distractions out of the way with a power adjustable dome. But the user himself is unlikely to go unnoticed on his futuristic "throne": Orb X, in addition to its spectacular design, also has a customizable backlight.
The Orb X Capsule can be used with a PC, laptop or game console, supports a 34″ monitor or up to three 27″ monitors, and has a USB hub with four USB-A ports and two USB-C ports (one of them is at 60 W). The built-in audio system includes two speakers and a subwoofer. The workstation measures 1881x1810x2088 mm and weighs 343.5 kg and will be available in black and white. So far, you can only register on the waiting list for the purchase of Orb X, but nothing has been announced about the timing of release and cost. Cooler Master has previously quoted a price of $12,000 – $14,000, but it's not clear if that's final.