Up to 500 cars will be modified per day
As Avtograd News reports on the VKontakte social network, AvtoVAZ has actively taken up the completion of thousands of Lada Granta cars, which will turn into commercial vehicles and go to consumers this year. The insider adds that they plan to refine up to 500 cars in three shifts per day.
At AvtoVAZ, they began working out incomplete Lada Granta cars, of which more than 9 thousand units have accumulated on the territory of the automobile plant. On December 4, it is planned to equip about 500 vehicles in two work shifts, the vehicles are driven through a sprinkling chamber for washing, then in the building, the relevant specialists will replace the technological steering shaft with an electric power steering shaft, then adjust the camber / toe angle (in the popular way) at the appropriate stand , further along the technological chain up to delivery to the shipment shop. From Monday, December 5, an additional night shift is introduced to increase the pace of work on retrofitting incomplete vehicles, on average, from 400 to 500 vehicles are expected to be worked out per day (in three shifts). Thus, by the end of the month it is planned to clear the territory of the enterprise from shortages,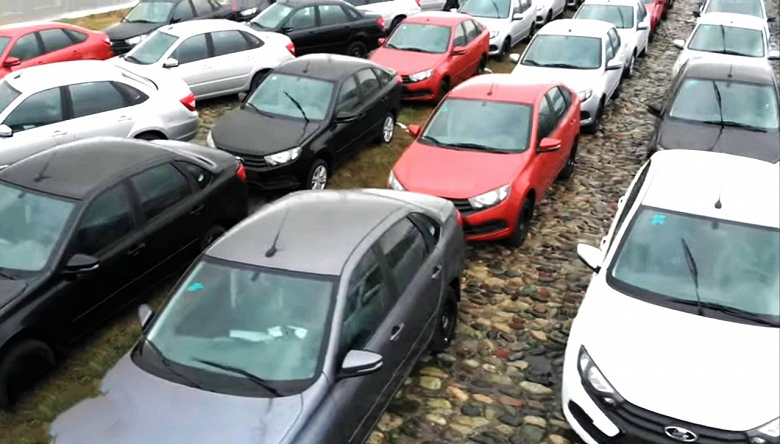 Earlier it was reported that due to violations of supply chains, AvtoVAZ lacks parts for assembling cars, which they plan to fully equip when the necessary components become available. Because of this, new cars that continue to roll off the assembly line are stored in all available places, including lawns.
At the moment, more than 9 thousand incomplete Lada Granta cars have already gathered on the territory of AvtoVAZ, for which there were not enough electric power steering. They  are stored in all available places, including lawns .
At the end of December, AvtoVAZ received electric power steering for Lada Granta and began to refine incomplete cars.
The admin of the Avtograd news public lives in Tolyatti and works at AvtoVAZ, so the information published by the insider is up-to-date and almost always reliable.