Last updated on December 2nd, 2022 at 05:48 pm
Special price valid until December 11
Presented today, the smart speaker VK Capsule Neo is already available for pre-order for 2990 rubles, for which it will be available until December 11. In the future, the price will increase by 1000 rubles, so that the first buyers receive an excellent discount.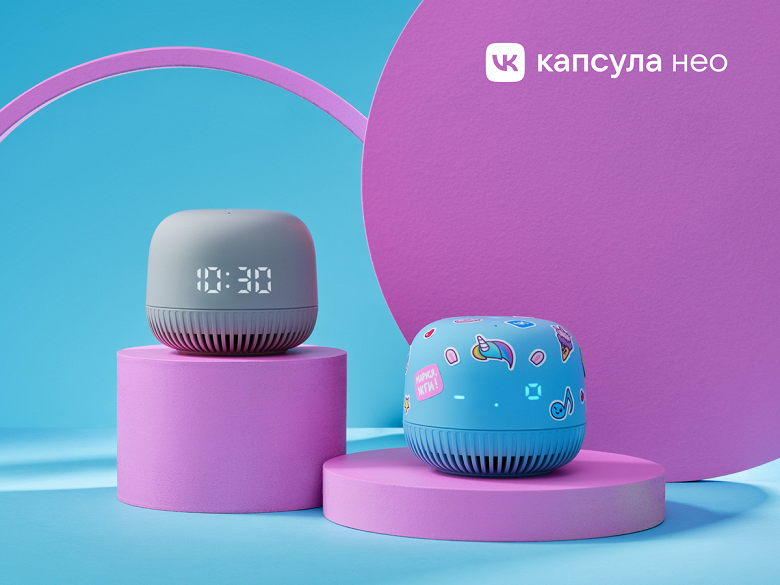 The branded stickers presented in the kit, which can decorate not only the column, but also other gadgets, will not be sold separately. The 42mm full-range driver delivers 5W of omnidirectional sound and Bass Boost for quality bass.
The manufacturer claims that the VK Capsule Neo speaker perfectly recognizes voice commands, even if music is played on it at a high volume level. Connection is via Wi-Fi (2.4 GHz) and Bluetooth.
`
The dimensions of the device are 90 x 75 mm with a weight of 430 g, on the body there are four touch buttons and a digital LED display that displays information about time, weather and other informatio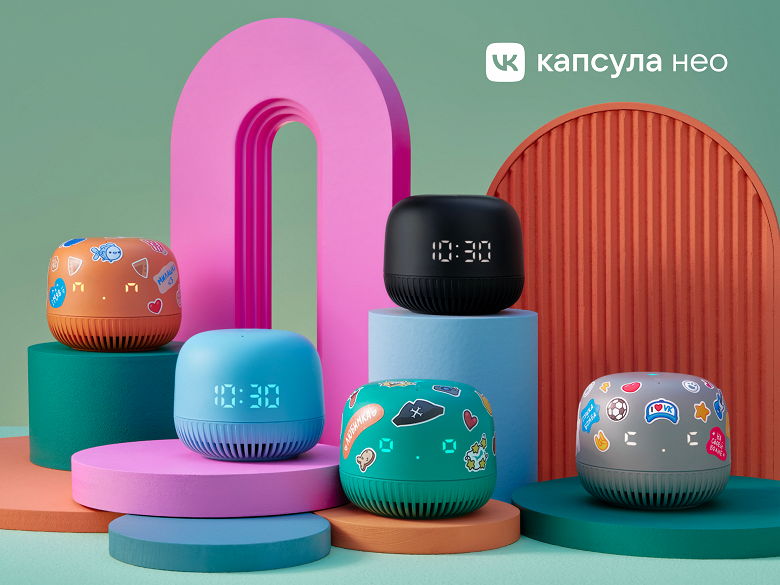 The device is pre-installed with a built-in voice assistant Marusya, which allows you to send messages, play incoming messages, music, podcasts, movies from the Wink online cinema. Buyers will receive as a gift a subscription to the VK Music service and the Wink online cinema for three whole months. In addition, the owners of the column will be able to control smart home devices (gadgets from more than 50 manufacturers are supported). For smartphones running iOS and Android, the application "Marusya – voice assistant" is available.
VK CAPSULE NEO IS A SMART SPEAKER AT A VERY AFFORDABLE PRICE. FROM HER OLDER SISTER, VK CAPSULE MINI, SHE INHERITED THE SOUND POWER AND ANIMATED LED DISPLAY, WHICH IS ESPECIALLY LIKED BY USERS. VK CAPSULE NEO IS DIFFERENT FOR EVERYONE. YOU CAN INDEPENDENTLY CHOOSE WHAT MUSIC OR WHAT NEWS TO LISTEN TO, THE VOICE ASSISTANT HAS MANY SOURCES. AT THE SAME TIME, IN THE APPLICATION SETTINGS, YOU CAN CONFIGURE ACCESS TO PERSONAL CONTENT – VKONTAKTE, MAIL OR CALENDAR. OWNERS OF VK CAPSULES NEO CAN ALSO DECORATE THEIR SMART SPEAKER WITH STICKERS – A GOOD SOLUTION, FOR EXAMPLE, FOR A CHILD'S ROOM, BECAUSE WE KNOW THAT OUR SMART SPEAKERS ARE GREAT FOR FAMILIES WITH CHILDREN.
ANATOLY KULBATSKY, DIRECTOR OF SMART PRODUCTS VK
The developers have confirmed that VK Capsule Neo received a proprietary connector, and not USB-C, for charging. The length of the complete cable is 1.5 m.