We talked about it at the end of October in one of the many beta updates regarding WhatsApp, and the confirmation has finally arrived that the Avatars have been officially introduced by Meta within the messaging application. The company confirmed it in its blog with an announcement (available in SOURCE).
Avatars can be used as profile pictures and for the creation of 36 personalized stickers, with which we will be able to respond to friends and family in a way expressing our emotions in a completely new way. The company said in the release that this new feature will be rolling out to users around the world from today, however, if you still don't see it we recommend you update the app and wait, as the release could come in stages with remote activation.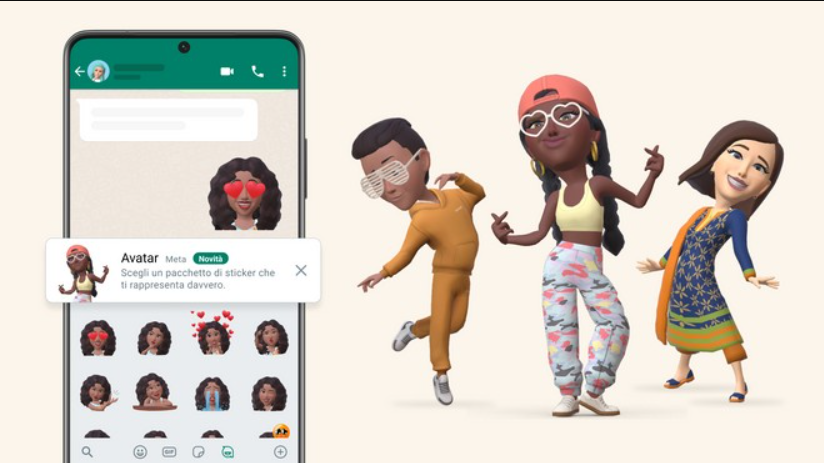 According to Meta, for many users, this will be their first experience with an avatar, and in fact for a large part of the population, the less tech-addicted, it could be just like that. The value of avatars has been known for years, especially in gaming, and the feature is designed to help people represent themselves, especially when you don't want to use a real photo for privacy reasons.
Over time, Meta plans to expand the customization options to include lighting, shading, new hairstyles, and more. Meta's statement on the new avatars was rather terse and it didn't specify whether Facebook avatars will sync with WhatsApp ones or if users will have to create a new one from scratch.
Offering synchronization between platforms could be an interesting option, especially now that Facebook is suffering compared to other competitors in the social arena. Naturally, nothing comes by chance and we already know that avatars will play a central role in the metaverse of Meta , therefore their introduction also in WhatsApp could increase confidence with this feature, which is absolutely fundamental in the metaverse.
At this point we just have to wait for activation for all accounts and start creating our best avatar! And what do you think of this novelty, will you use it and you don't care? Let us know in the comments.