Aeroflot intends to purchase 40 such airliners
According to RBC, Aeroflot asked to make 99 changes to the design of the serial passenger Tu-214, and they mainly relate to the cabin. RBC refers to the working correspondence between Aeroflot and the United Aircraft Corporation, the authenticity of which was confirmed by the interlocutor of RBC, who is familiar with the Tu-214 delivery project.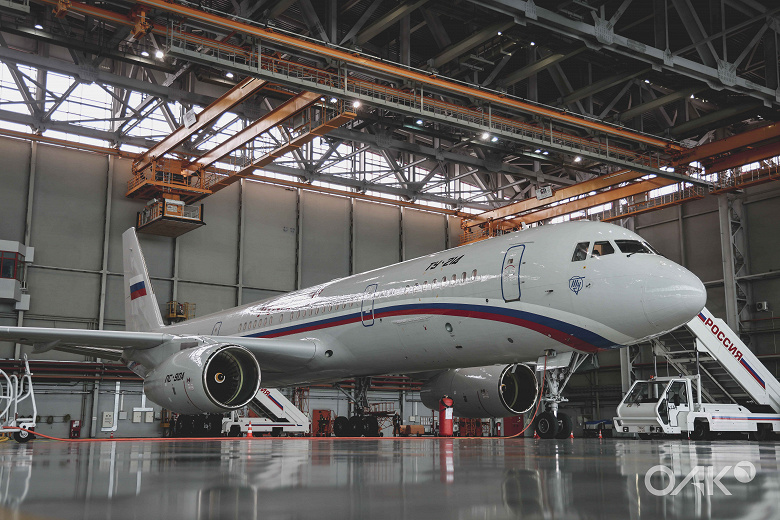 The Tu-214 is not a new aircraft for the Russian aviation industry, but until recently it did not have a serial passenger version. The sanctions and the absence of the main MS-21 and SSJ New have made their adjustments: Aeroflot last year signed an agreement with the SLA for the purchase of 40 Tu-214s. The airline, according to its CEO Sergei Aleksandrovsky, thus wants to reduce the risks when starting to use the new MS-21 aircraft. Considering that the Tu-214 is almost 30 years old, it is not surprising that the air carrier had a lot of wishes for the modernization of the aircraft.
According to RBC, Aeroflot asked to make changes to the passenger compartment of the Tu-214 after the airline's specialists visited the Kazan Aviation Plant in early 2023. The airline's offers include passenger seats, a passenger service panel, kitchen and lighting, an entertainment system, and doors.
Aeroflot asked to make 99 changes to the design of the Tu-214
For example, on business class seats, under the back, Aeroflot asks to install a drop-down step for the passenger sitting in the back, and asks to provide stands for a phone or tablet in the tables. But these requirements are not yet feasible, as follows from the correspondence.
`
The airline also asked that the Tu-214 rescue equipment be brought into line with Western equipment (Aeroflot mainly flies on Airbus and Boeing aircraft). But imported equipment is not supplied to Russia due to sanctions, so Tupolev experts suggest replacing it with Russian counterparts. The same goes for the kitchen: the airline wants to use ATLAS standard equipment, which is no longer supplied to Russia. The alternative is to install Russian equipment, but of different sizes.
" We are discussing with UAC the implementation of the maximum possible number of options so that passengers receive the same high level of comfort and service on board that they are used to on Aeroflot flights ," said an Aeroflot representative. A UAC representative said that the company is carefully working with customer requests. " We have many years of experience in constructive cooperation with the Aeroflot group on both Superjet and MS-21, the appearance of which was agreed with the customer ," added the UAC representative.
Experts say that the refinement of the aircraft in accordance with the wishes of the customer is a normal practice, however, as a result, the serial passenger Tu-214 may become more expensive and it is possible that the delivery of the Tu-214 to Aeroflot will be delayed.