Apparently, there is not far from the RTX 4060 Ti
AMD just announced the Radeon RX 7600 graphics card, which is indeed priced at just $270, as we reported yesterday . This is quite unexpected, since rumors attributed to the card a price of 300-330 dollars. 

The Radeon RX 7600, as expected, received a Navi 33 GPU with 2048 stream processors, as well as 8 GB of memory at 18 GHz and a 128-bit memory bus. The amount of cache memory Infinity Cache is 32 MB. You can also note the frequency of the GPU in 2250-2625 MHz and TDP 165 watts.  
To make the announcement even more interesting, AMD has published the results of comparing the RX 7600 and RX 6600. Recall that the tests in 3DMark showed an average increase of 34%. 
AMD, this is just some kind of gift for budget gamers.
As you can see, the increase is really huge. The average rate in games is 29%, while in some projects the increase exceeds 40-50%! And at the same time, the price relative to the RX 6600 has decreased by almost 20%. In comparison,  the RTX 4060 Ti is only 12% faster than the RTX 3060 Ti on average at the same price.
`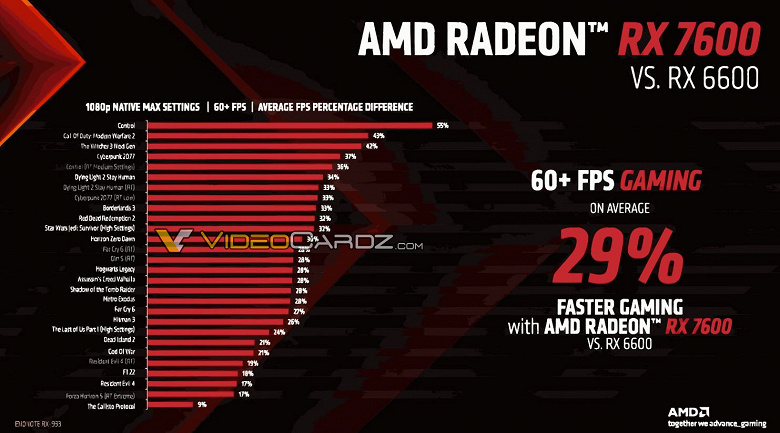 RX 7600 reviews coming later today. But if you look at the reviews of the RX 6600, you can see that a 30% increase gives the performance of the RTX 3060 Ti, and there it is not far from the RX 6700 XT. So the $270 RX 7600 will likely fall behind the $400 RTX 4060 Ti.  
It is also worth noting that the RX 7600 appeared after the RX 7900, and AMD has not yet announced other cards of the new line for some reason. Apparently, this is the first such precedent, and so far its reasons are completely incomprehensible.