He can even climb stairs, but he needs support.
Brain implants are most often used in laboratory experiments, and their presence either has little or no effect on the patient's normal daily life. In the case of the Dutchman Gert-Jan Oskam, everything is completely different: the implants returned him the ability to walk.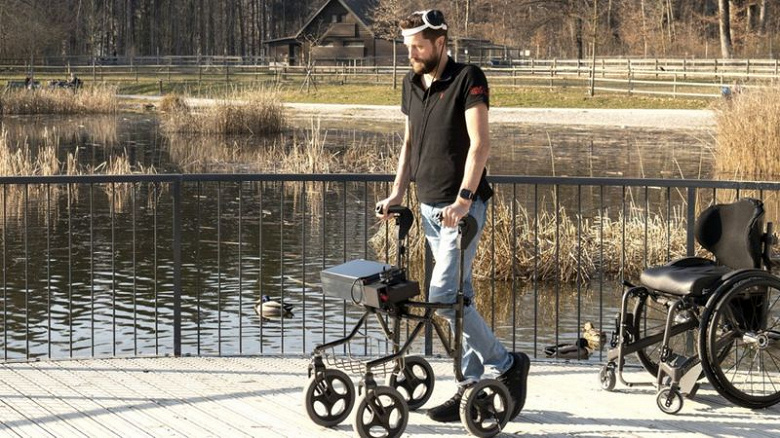 Oskam had an accident 12 years ago and was paralyzed from the waist down. In such cases, you can forget about the return of the ability to move independently on your feet. However, science is moving forward, and now Oskam is already walking, albeit not without the help of walkers or any other stops.  
In this case, the method itself is rather unusual. The fact is that there are three implants in the Dutchman's body at once: two in the brain and one in the spine, since due to an injury, only the first would not be enough. And these chips interact wirelessly.   
Brain and Spinal implants returned the ability to walk to a paralyzed person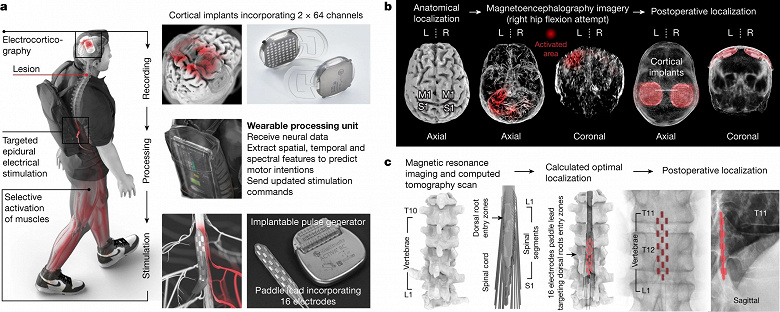 The operation was carried out back in 2021, but the article was published in Nature only a few days ago. The patient reportedly took several weeks to learn to stand and walk.
Oskam was not the first patient to have a spinal implant, but others did not have brain implants, so in their case, the movements of the legs were completely computer programmed, and people have to adjust to this program, if there is a desynchronization, they have to stop and program everything again. Oskam himself also initially had only a vertebral implant.
`
Unfortunately, as in all or almost all such cases, Oskam does not have the opportunity to constantly use the capabilities of implants, since additional bulky equipment is needed for their work. But it is reported that he goes to rehab several times a week. Moreover, scientists write that after the system is turned off, there is a certain ability to move muscles, so there is reason to believe that damaged nerve fibers are restored.
As in many similar cases, it is too early to talk about the mass character of the technology. The authors of the project note that it is at an early stage, and it takes many years to make such operations massive.