Last updated on October 2nd, 2023 at 11:49 am
Clash of the Titans: Duke vs. Notre Dame –  College Basketball Supremacy
College basketball holds immense significance in the United States, captivating fans with its intense rivalries and thrilling games. Two prominent programs, Duke University and the University of Notre Dame, have established themselves as powerhouses in the sport. The rivalry between Duke and Notre Dame is a clash of titans, characterized by fierce competition and a quest for college basketball supremacy.
 Historical Background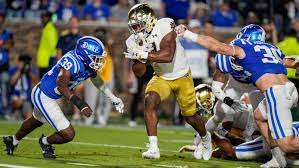 Duke University has a rich basketball history, with its program dating back to the early 1900s. The team's success can be attributed to its exceptional coaches and talented players. Under the guidance of legendary coaches such as Mike Krzyzewski, commonly known as Coach K, Duke has achieved remarkable success. The team has won multiple NCAA championships, including titles in 1991, 1992, 2001, 2010, and 2015. Duke has also secured numerous conference championships, showcasing their dominance within their respective conference.
Notable players who have donned the Duke Blue Devils jersey include basketball icons such as Christian Laettner, Grant Hill, Shane Battier, and Zion Williamson. These players have not only excelled at the collegiate level but have also made significant impacts in the NBA.
`
Historical Background of Notre Dame Basketball
The University of Notre Dame's basketball program has a long and storied history. Established in 1897, the team has become a formidable force in college basketball. Led by legendary coaches such as Digger Phelps and Mike Brey, Notre Dame has achieved notable success.
While Notre Dame has not won as many NCAA championships as Duke, they have made their mark in the sport. The Fighting Irish have had several successful seasons, making numerous appearances in the NCAA tournament. They have also clinched conference championships, demonstrating their ability to compete at a high level within their conference.
Notre Dame has produced talented players who have gone on to have successful careers in both college and professional basketball. Notable players include Austin Carr, Adrian Dantley, and Jerian Grant, who have left a lasting impact on the program.
 Head-to-Head Comparison: Team Performance
 Overall Team Success
When comparing the overall success of Duke and Notre Dame, both programs have achieved remarkable records. Duke boasts an impressive all-time win-loss percentage, reflecting their consistent excellence on the court. The Blue Devils have secured multiple NCAA championships and have been a dominant force in their conference, winning numerous conference titles.
Notre Dame, while not matching Duke's championship count, has had consistent success with a solid win-loss record. The Fighting Irish have made several appearances in the NCAA tournament, showcasing their ability to compete against top-tier teams. They have also clinched conference championships, establishing themselves as a respected program.
Head-to-Head Matchups
The meetings between Duke and Notre Dame have produced some memorable games and intense battles. Both teams bring their A-game when they face each other, resulting in thrilling matchups that captivate fans. Notable games include close contests, overtime thrillers, and high-scoring affairs that have left a lasting impact on the rivalry.
 Individual Player Rivalries
The Duke vs. Notre Dame rivalry has witnessed some captivating player matchups over the years. Star players from both teams have faced off, creating individual rivalries that further intensify the competition. These matchups have showcased the skills and talents of exceptional athletes, adding another layer of excitement to the games. Fans eagerly anticipate these clashes, as they often result in memorable performances and highlight-reel plays.
Coaching Philosophies and Strategies
 Duke Coaching Philosophy
Duke's coaching philosophy, under the leadership of Coach K, emphasizes player development, team culture, and disciplined play. The coaching staff focuses on nurturing talent, helping players reach their full potential, and instilling a strong work ethic. The Blue Devils prioritize teamwork, emphasizing the importance of playing together and supporting one another on and off the court. Coach K's disciplined approach to the game ensures that players understand their roles and execute their responsibilities with precision. This philosophy has been instrumental in Duke's success, as it creates a cohesive unit that can overcome challenges and achieve greatness.
Notre Dame Coaching Philosophy
Notre Dame's coaching philosophy, led by Coach Mike Brey, emphasizes teamwork, discipline, and offensive efficiency. The coaching staff focuses on creating a cohesive unit that plays unselfishly and executes a structured offensive system. Notre Dame emphasizes smart decision-making and efficient ball movement to create scoring opportunities. Defensively, the Fighting Irish prioritize discipline and sound fundamentals, focusing on positioning and communication to limit opponents' scoring chances. Coach Brey's philosophy fosters a team-oriented approach that maximizes the strengths of each player and allows Notre Dame to compete at a high level.
 Playing Styles and Strategies
Duke Playing Style
Duke is known for its fast-paced and aggressive playing style. The Blue Devils push the tempo, utilizing their athleticism and speed to create scoring opportunities in transition. They apply intense defensive pressure, using their length and quickness to disrupt opponents' offensive flow. Offensively, Duke relies on a balanced attack, with players capable of attacking the rim, shooting from the perimeter, and making plays for their teammates. Their aggressive style of play and commitment to strong defense make them a formidable opponent on any given night.
Notre Dame Playing Style
Notre Dame's playing style is characterized by deliberate offense, efficient shooting, and disciplined defense. The Fighting Irish prioritize ball movement and patience on offense, looking for high-percentage shots and capitalizing on their players' basketball IQ. They are known for their efficient shooting, both from the perimeter and inside the paint. Defensively, Notre Dame focuses on fundamental principles, such as positioning, communication, and limiting second-chance opportunities. Their disciplined approach allows them to compete against more athletic teams and find success through execution and smart decision-making.
Fan Base and Game Atmosphere
 Duke Fan Base
The Duke fan base is known for its passion and dedication. The Cameron Crazies, as they are affectionately called, create a lively and electric atmosphere at home games. They are known for their enthusiastic chants, creative signs, and unwavering support for the Blue Devils. The Cameron Indoor Stadium, Duke's home court, becomes an intimidating environment for opponents, with the fans providing a significant home-court advantage. Their energy and fervor contribute to the overall experience of watching a Duke basketball game.
 Notre Dame Fan Base
The Notre Dame fan base, known as the Leprechaun Legion, is equally passionate and dedicated. Notre Dame fans show up in full force to support their team, creating a vibrant and energetic atmosphere at home games. The Joyce Center, where the Fighting Irish play their home games, becomes a sea of green as fans cheer on their team. The Leprechaun Legion's unwavering support and enthusiasm for Notre Dame basketball contribute to the electric atmosphere that surrounds the team.
Notable Rivalry Moments
The Duke vs. Notre Dame rivalry has produced several iconic moments that have etched themselves into college basketball history. From buzzer-beating shots to thrilling comebacks, these moments have added to the intensity and significance of the rivalry. Some notable moments include close games decided in overtime, dramatic last-second shots, and memorable performances by star players. These moments serve as a testament to the competitive nature of the Duke vs. Notre Dame rivalry and the impact it has had on the college basketball landscape.
 FAQs
How many national championships has each team won?
Duke has won a total of five national championships, while Notre Dame has yet to win a national championship in men's basketball.
Who are the most successful coaches in the history of both programs?
Mike Krzyzewski, commonly known as Coach K, is widely regarded as the most successful coach in Duke's history. For Notre Dame, Digger Phelps and Mike Brey are notable coaches who have achieved significant success with the Fighting Irish.
Which players from Duke and Notre Dame have gone on to successful NBA careers?
Duke has produced numerous NBA stars, including players such as Zion Williamson, Kyrie Irving, Grant Hill, and Jayson Tatum. Notre Dame has also seen players transition to successful NBA careers, including Jerian Grant, Pat Connaughton, and Bonzie Colson.
 What are the key differences in recruiting strategies between Duke and Notre Dame?
Duke is known for its ability to attract top-tier recruits, often landing highly-ranked prospects. The Blue Devils' recruiting strategy focuses on targeting elite talent and showcasing the program's winning tradition, state-of-the-art facilities, and the opportunity to play under the guidance of Coach K. Notre Dame, on the other hand, emphasizes finding players who fit their system and culture. The Fighting Irish prioritize character, academics, and players who can contribute to the team's success both on and off the court.
 How do Duke and Notre Dame compare academically?
Both Duke University and the University of Notre Dame are highly regarded academic institutions. Duke is known for its strong academic programs across various disciplines, including its prestigious Fuqua School of Business and School of Law. Notre Dame is renowned for its commitment to a well-rounded education, combining rigorous academics with a strong emphasis on character development and community service. Both universities attract students who excel both athletically and academically.
Conclusion
The rivalry between Duke and Notre Dame is a clash of titans, with both programs boasting rich basketball histories and passionate fan bases. The head-to-head matchups, coaching philosophies, playing styles, and fan support all contribute to the intensity and significance of this rivalry. As Duke and Notre Dame continue to compete for college basketball supremacy, their matchups will undoubtedly create more memorable moments and further solidify their status as two of the nation's premier basketball programs.