Most people think that fun jobs come with low pay, but that's not always true. You don't have to settle for a desk job to make good money. Explore these exciting careers that offer both enjoyment and a substantial income.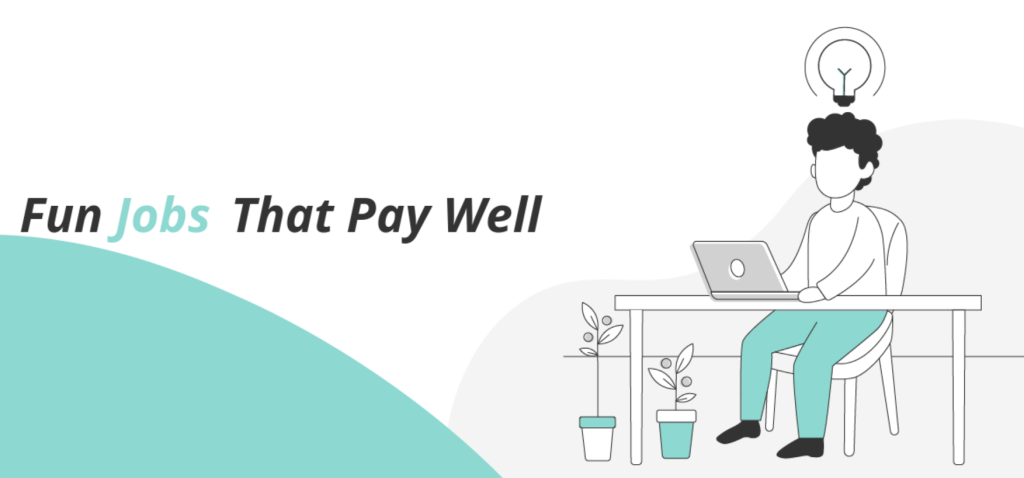 Fun Careers That Pay Well
Here's a curated list of 57 fun careers that provide a balance of enjoyment and high earnings, spanning diverse industries.
Designing Dreams:
Toy Creator: Craft toys for children and earn an average of $67,284 per year.
Video Game Designer: Dive into video game creation and earn around $130,000 annually.
Creative Director: Shape visual elements for brands, with an average salary of $126,519.
Color Consultant: Design color palettes with a salary of about $99,853.
Architect: Design iconic structures for an average annual income of $82,499.
Animator: Create characters and stories, earning an average of $69,896.
Graphic Designer: Showcase creativity with an average yearly income of $48,283.
Lighting Designer: Illuminate stages and events with a yearly pay of $48,720.
Savoring Success in the Food Industry:
9. Food Scientist: Develop recipes and ensure food safety with an average salary of $74,130.
Executive Chef: Turn your culinary passion into a high-paying job, averaging $71,826.
Party Planner: Organize events and earn around $62,125 annually.
Sommelier: Choose wines and make an average of $59,519 per year.
Food Tester: Taste-test food for an average salary of $54,294.
Food Stylist: Make food look appealing, with an annual salary of $51,308.
Food Critic: Share your culinary opinions and earn about $42,744 annually.
Chocolatier: Create delicious chocolates and earn around $33,401 per year.
Adventures in Travel and Tours:
17. Cruise Ship Performer: Entertain while traveling and earn $62,054 per year.
`
Airline Pilot: Fly the skies and earn an average of $102,870 annually.
Astronaut: Explore outer space with salaries ranging from $66,000 to $144,566 per year.
Real Estate Agent: Explore properties and earn around $82,898 per year.
Personal Shopper: Assist shoppers and earn an average of $42,311 per year.
Tour Guide: Share your love for travel, with an average salary of $31,802.
Thriving with Animals and the Environment:
23. Marine Biologist: Study ocean life and earn about $112,043 per year.
Veterinarian: Care for animals and earn an average of $98,783 annually.
Park Ranger: Protect nature and earn around $41,370 per year.
Zookeeper: Work with animals, earning an average of $39,485 per year.
Dog Walker: Walk dogs and earn about $25 per hour.
Animal Groomer: Groom pets and earn around $34,280 per year.
Arts and Entertainment Bliss:
29. Video Gamer: Turn your passion for gaming into an average annual salary of $48,870.
Broadcast Journalist: Report news and earn around $52,144 per year.
Voice Actor: Use your voice to earn an average of $76,927 annually.
YouTube Vlogger: Share your life online, earning through ad revenue.
Social Media Influencer: Build a brand and earn an average of $57,245 per year.
Social Media Manager: Manage brand presence and earn around $50,088 per year.
Sports Analyst: Analyze sports and earn about $59,545 per year.
Art/Music Therapist: Use creative therapies and earn an average of $56,836 per year.
Novelist: Write stories and earn around $62,553 per year.
Book Proofreader: Correct books and earn about $59,431 per year.
Magician: Perform magic and earn around $54,071 per year.
Hollywood Stunt Performer: Engage in stunts and earn an average of $70,000 per year.
Photographer: Capture moments and earn around $43,114 per year.
Fashion Stylist: Create stylish looks and earn about $44,274 per year.
Celebrity Hair Stylist: Style hair for the stars and earn around $50,827 per year.
Makeup Artist: Beautify clients and earn an average of $47,917 per year.
Ghostwriter for Online Dating Profiles: Help singles connect and earn $14 – $18 per hour.
Sports and Fitness Adventures:
46. Golf Ball Retriever: Collect golf balls and earn between $50,000 – $100,000 per year.
Professional Athlete: Excel in sports and earn varying salaries based on sport.
Personal Trainer: Help clients get fit and earn around $62,864 per year.
Yoga Instructor: Teach yoga and earn about $60,191 per year.
Dance Instructor: Teach dance and earn around $51,087 per year.
Uniquely Engaging Professions
51. Astronomer: Study the cosmos and earn about $116,199 per year.
Private Investigator: Solve mysteries and earn around $53,320 per year.
Nuclear Technician: Monitor nuclear machinery and earn an average of $60,261 per year.
Bridge Tender: Manage waterway traffic and earn around $52,233 per year.
Derrickman: Maintain oil rigs and earn about $46,815 per year.
Supercar Driving Instructor: Teach driving skills and earn around $44,411 per year.
Billboard Installer: Install billboards and earn an average of $43,555 per year.
Conclusion: Discovering a career that combines passion and a substantial income is possible. Explore these 57 fun jobs that offer a perfect blend of excitement and financial reward.
FAQs:
Q1. Can I really find a job that's both fun and pays well?
A1. Yes, there are numerous careers that offer enjoyment and substantial income, spanning various industries.
Q2. Do I need specific qualifications for these fun careers?
A2. Qualifications vary based on the job. Some require degrees, certifications, or on-the-job training.
Q3. Can I turn my passion into a high-paying career?
A3. Absolutely! Many people turn their hobbies and passions into well-paying professions, such as gaming, yoga, or food-related jobs.
Q4. Are there jobs that allow me to travel while earning money?
A4. Yes, careers like cruise ship performers, airline pilots, and tour guides offer opportunities to travel while getting paid.