The video card was tested in Geekbench as part of a promising gaming laptop
Geekbench tests passed a new laptop under the designation X370SNx. This is definitely a gaming model, and definitely a new generation, since it has an Intel Core i9-13900HX processor and an Nvidia GeForce RTX 4090 3D accelerator as part of the hardware platform. Actually, thanks to this test, you can judge the performance of the mobile flagship of the Ada Lovelace line.

But first, the characteristics: it turned out that the parameters of the mobile GeForce RTX 4090 are similar to those of the desktop GeForce RTX 4080. So, both accelerators are built on the AD103 GPU and have 9728 CUDA cores. The memory is also 16 GB, but for mobile it is GDDR6, and for desktop it is GDDR6X.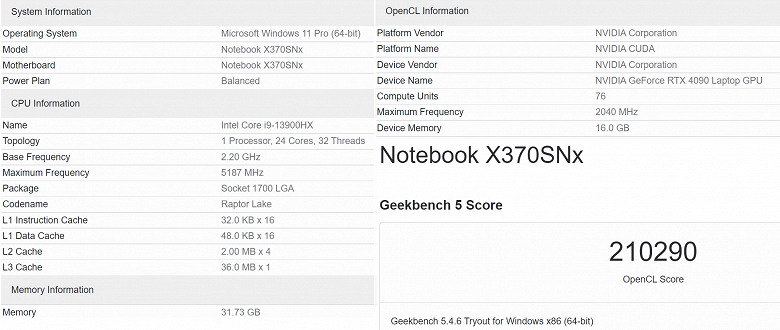 The GeForce RTX 4090 Mobile GPU reaches 2040 MHz, single precision performance should be 38.9 TFLOPs. As for performance in Geekbench, in the OpenCL test it is rated at 210,290 points – the mobile GeForce RTX 4090 was 2% faster than the mobile GeForce RTX 3090 and 1% slower than the desktop GeForce RTX 4070 Ti. But here we must take into account that, firstly, Geekbench tests are poorly correlated with real gaming performance, and secondly, driver optimization can make a 3D card noticeably faster. Finally, the laptop was tested with a "balanced" power plan, and not at maximum performance, so it's likely that more could be squeezed out of the 3D card – provided that the cooling system allowed it.