The GPU is credited with 1536-2048 CUDA cores
The Nintendo Switch 2 game console may be based on the MediaTek SoC. At least this is the data the author of the RedGamingTech channel has.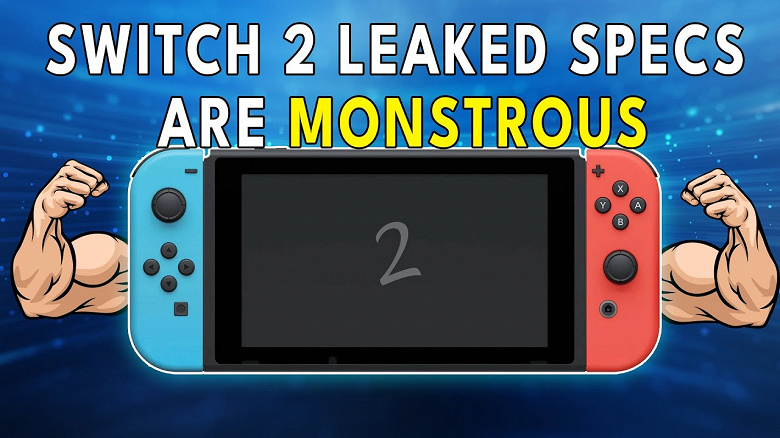 If this data is correct, Switch 2 relies on a single-chip MediaTek system, which is configured with two Cortex-A720 cores, four Cortex-A520 cores, two Cortex-X4 cores, and an Nvidia-based GPU.
If we first talk about the processor part, then this should be a very productive solution by modern standards.
As for the GPU, we are talking about the Aad Lovelace architecture and 12-16 SM units, that is 1536-2048 CUDA cores. At the moment, among all the RTX 40 video cards, the weakest is the mobile RTX 4050 Laptop, which is based on the AD107 GPU with 2560 CUDA cores. That is, the GPU of Switch 2 may be close in parameters to the RTX 4050 Laptop, or it may be noticeably weaker. Plus, don't forget that the RTX 4050 Laptop, even in the weakest version, has a TDP of 35 W, and in the top version, it is even 115 W. No matter how many CUDA cores the GPU in the Switch 2 has, the power of its SoC will be much lower, and part of this power will come from the CPU.
Nintendo Switch 2 could get a MediaTek SoC with an Nvidia GPU, which could be called the RTX 4040
`
Thus, somehow comparing the Switch 2 with the RTX 4050 Laptop is problematic. But even if, for example, the console is twice as slow, then for a portable console this is very, very significant. For example, a 45-watt RTX 4050 Laptop in Full HD resolution, thanks to DLLS 3 with frame generation, is capable of delivering 40-50 fps in Cyberpunk 2077 at high settings, and at medium settings, it will be 60-70 fps. In most games, the situation will be much better. At the same time, Switch 2 is still credited with HD resolution, that is, the load on the GPU will be lower, although it is worth remembering that the GPU itself will be much less productive than the RTX 4050 Laptop.
We also recall that the latest data indicates 12 GB of RAM for the set-top box.
We haven't heard anything about the MediaTek SoC in Switch 2 before, so we should treat this information accordingly. The RedGamingTech channel at one time accurately described the parameters of the Radeon RX 7800 XT long before its release and indicated the performance level of the RX 7700 XT, but at the same time slightly missed the characteristics of the latter.