PowerColor showed the "devilish" Radeon RX 7900. Such a video card will not fit in every case. This is the flagship model based on the new flagship AMD GPU
PowerColor has released the first image of its upcoming flagship PowerColor RX 7900 Red Devil graphics card. The description refers to the Devil 13 version – such video cards led the line based on the Radeon R9 300. Now, perhaps, the series will be restarted.
Radeon RX 7900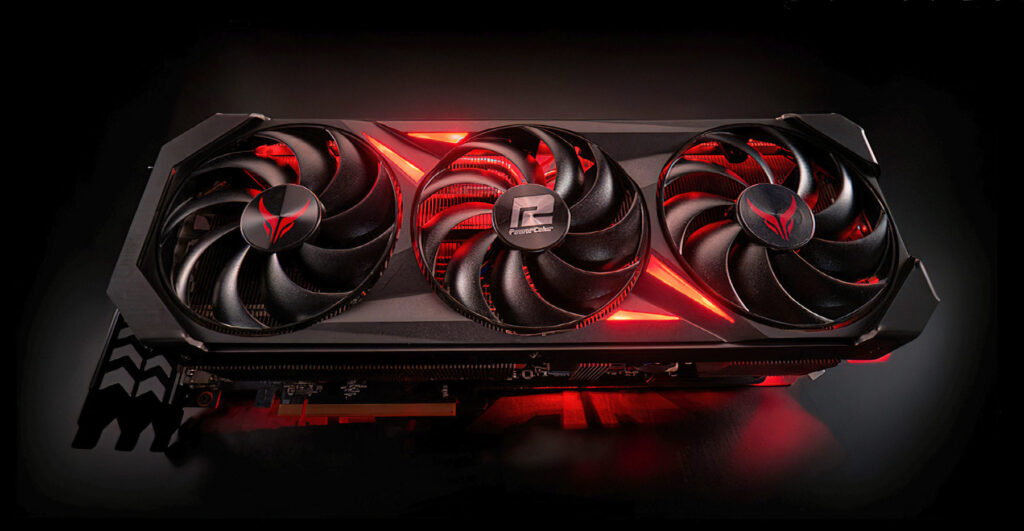 The company hasn't said if it's the Radeon RX 7900 XTX or XT, but there will likely be Devil 13 variants for both models. Judging by the picture, the PowerColor RX 7900 Red Devil received a very large cooling system, due to which the video card will require more than three slots in the PC case. It is logical that three fans were chosen for the top model, and the backlight – characteristic of a "devilish" video card – is red. Recall that the start of sales of video cards on the new flagship AMD GPUs is scheduled for December 13.
The GeForce RTX 4080 has now arrived, albeit only the 16 GB model following NVIDIA's abrupt 'unlaunch' of the 12 GB model, which the company is rumoured to have repackaged as the RTX 4070 Ti. There is still almost a month's wait before AMD starts selling the Radeon RX 7900 XT and the Radeon RX 7900 XTX too. At launch, AMD decided against revealing too many performance details, with the company confirming essential specifications, pricing and a release date instead.
AMD has now published some gaming benchmarks, as well as several performance metrics just as the RTX 4080 becomes orderable. To recap, the RTX 4080 offers 16 GB of GDDR6X VRAM with a 256-bit bus and 717 GB/s memory bandwidth. By contrast, the Radeon RX 7900 XT has 20 GB of slower GDDR6 VRAM but with an 800 GB/s bandwidth because of its wider 320-bit bus. The Radeon RX 7900 XTX goes even further too, with 24 GB of GDDR6 VRAM on a 384-bit bus to deliver a bandwidth of 960 GB/s.