Price is $12,350
New details have surfaced about the ability to upgrade conventional F-150 pickups to almost the level of the Raptor R that we reported yesterday . Ford announced the FP700 Bronze Edition and Black Edition packages.
These two packages from Ford Performance are available for F-150s built from 2021 to 2023 in XL, XLT, Lariat and Platinum trims. The only major limitation associated with the package is that the base engine must be a 5-liter V8. The package adds a 3-liter Whipple supercharger, increasing power to 700 hp and torque to 800 Nm. For reference, the most powerful Raptor R produces 700 hp. and 867 Nm with a V8 engine from the Shelby GT500.
The packages are compatible with both rear and all wheel drive. This upgrade is approved in all US states and is backed by a three-year warranty from Ford Performance. Both packages also include rear lowering springs, fender vents, FPP floor mats, black painted grilles and side graphics.
Regular F-150 Owners Can Officially Upgrade Power to 700 HP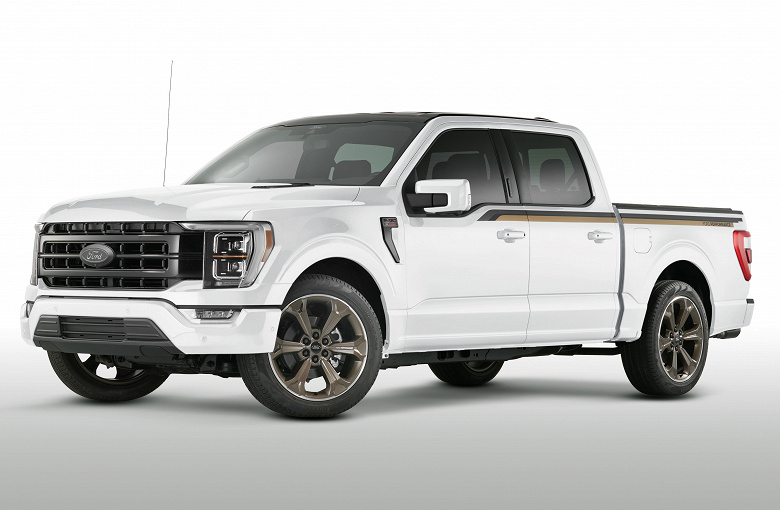 The styling of the Ford F-150 FP700 Bronze Edition features "bronze" side body graphics, tailgate lettering and a set of 22-inch Sinister Bronze wheels. The F-150 FP700 Black Edition package offers 22-inch black wheels with black nuts, black front fascia trim and dark tailgate and side graphics. Both FP700 packages are compatible with a range of other Ford Performance parts, including a side-exit sports exhaust system and various body accessories.
The Ford F-150 FP700 Bronze and Black Edition packages are priced at $12,350, not including dealer installation fees.
`