The press release focuses on 16 GB and does not explain what RAM Plus is
Smartphone manufacturers have been actively offering the function of expanding the amount of RAM due to flash memory for some time now. However, Samsung seems to have chosen to advertise this feature without putting too much emphasis on what it is.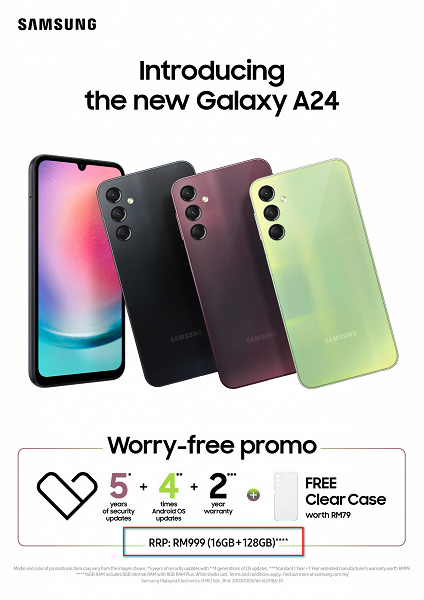 Samsung claims the Galaxy A24 has 16GB of RAM
The company has launched the Galaxy A24 4G model in Malaysia, and in the press release, you can see the mention of the smartphone's 16 GB of RAM. At the same time, there are no normal notes on the large advertising image that the smartphone does not actually have these 16 GB of RAM. Yes, there are footnotes in small print and a description of the parameters below, but everywhere it was originally indicated exactly 16 GB of RAM, and later it was written that this was a volume that included 8GB RAM Plus. And even here, an inexperienced user may not understand what the point is or not pay attention to it at all. Moreover, nowhere in the document is it explained what RAM Plus is.
But here's the thing: the smartphone actually has 8 GB of RAM, and another 8 GB can be added via the RAM Plus function from flash memory. Of course, this is not at all the same as 16 GB of physical RAM.