The headset supports audio transmission at 1.5 Mbps
Huawei has officially announced that Huawei FreeBuds Pro 3 will be the world's first Bluetooth headset to adopt StarLight core connection technology and support 1.5Mbps audio transmission.
The head of the company, Yu Chengdong, said that compared with traditional wireless connections, Star Flash's power consumption has been reduced by up to 60%, data transfer speed by 6 times, latency by up to 1/30, and the number of connections by 10 times.
The world's first Bluetooth headset with StarLight technology – details about Huawei FreeBuds Pro 3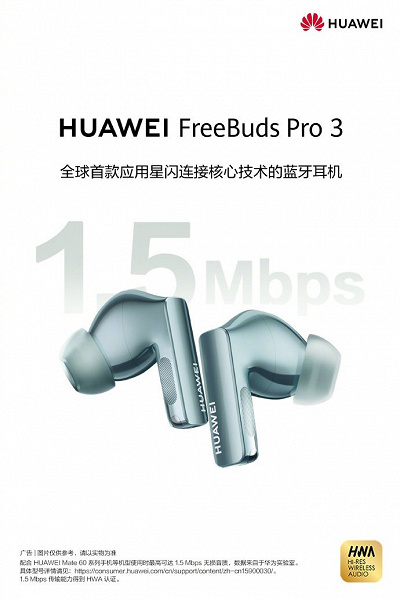 Additionally, Huawei Freebuds Pro 3 supports ANC 3.0 Intelligent Dynamic Noise Canceling, which is said to be better able to suppress noise. The headphones are equipped with the new Pure Voice 2.0 microphone system. The headset has a battery life of 31 hours, supports connecting two devices, and costs 200 euros.
The new product was presented last week, but details about StarLight have only appeared now.