For the older one, they will ask for 900 euros
Smartphones of the Xiaomi 13T line will be presented on September 26 in Berlin. These are global models that will be in many ways similar to the models of the Redmi K60 line.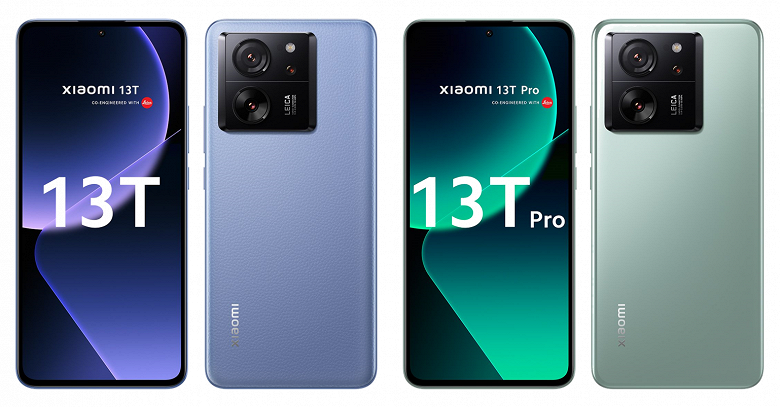 In particular, in fresh high-quality renders, both Xiaomi 13T and 13T Pro completely copy the Redmi K60 Ultra in design.
Technically, the two new Xiaomi products will also be very similar. Both will receive 144Hz AMOLED screens with a diagonal of 6.67 inches with a resolution of 2712 × 1220 pixels, which is identical to the screen of the Redmi K60 Ultra.
Xiaomi 13T and 13T Pro will be better than the Chinese Redmi K60 Pro/Ultra
Both smartphones will also have a 50-megapixel main camera based on the Sony IMX707 sensor, a 50-megapixel telephoto camera, and a 12-megapixel ultra-wide-angle camera. This is much better than the K60 Ultra camera, which does not have a "telephoto" at all.
Xiaomi 13T Pro will copy the K60 Ultra in terms of platform. The heart will be the same top-end SoC Dimensity 9200+. And the Xiaomi 13T will be based on the Dimensity 8200 Ultra.
`
The batteries will be identical: 5000 mAh each, but the charges will differ. The older version will receive 120 watts, and the younger will be content with 67 watts.
For Xiaomi 13T they will allegedly ask for 700 euros, and for 13T Pro, you will have to pay at least 900 euros. For comparison: Xiaomi 12T and 12T Pro with similar parameters a year ago were released at prices of 600 and 750 euros, respectively.