My wife, Cathy, and I have been on a mission in the last couple of years to cut expenses from our monthly budget. Monthly costs can add up quickly if you're not careful. Life happens in ways that can throw your plans off track. Things happen that you don't plan on can derail your plans and can wreck your budget.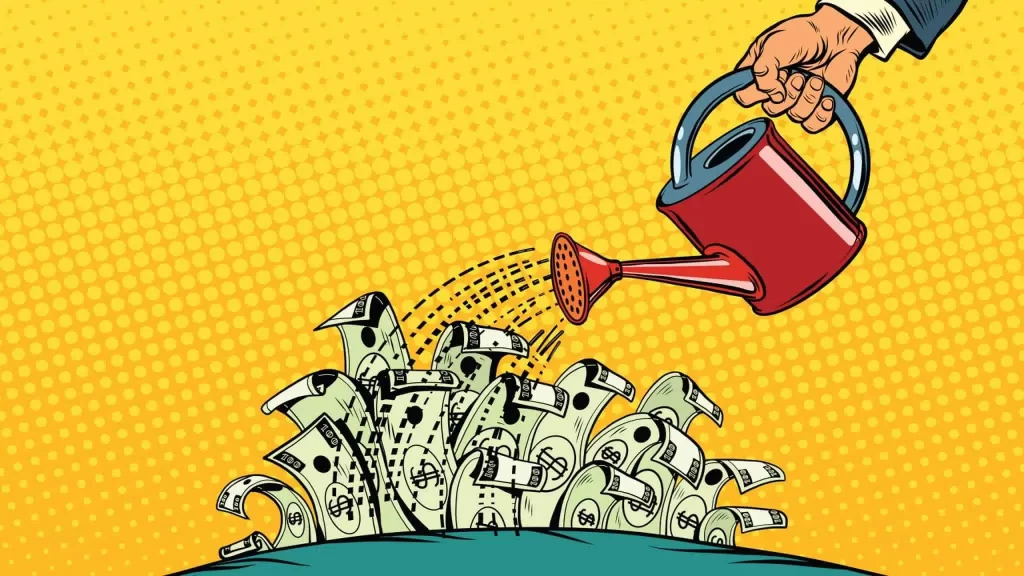 That was the case for Cathy and me.
If you're a regular reader, you know of our long battle dealing with our son's addiction. During these years, we made some terrible decisions with our finances. The result – pretty much starting over in our mid-fifties.
We didn't let that tear up our marriage, though it was not an easy road. One of the things that got us through is the ability to talk about things we didn't necessarily want to discuss. That includes talking about money and finances.
We realized going through this challenging time that we didn't have a good handle on our finances. Though my income is variable, I was making good money. Maybe you can relate. Instead of setting it aside for saving and investing, we lived and spent as if it would last forever. That, of course, meant we didn't have much of an emergency fund.
`
Life Is About More Than Money
There are things more valuable than money. However, money and finances are in the top two or three reasons on almost every list you'll see on what causes divorce. We now make it a point to regularly review and talk about what we're doing with our money.
Once we began to get ourselves back on track, we looked for ways to cut spending. We combed over every aspect of our cash flow to find ways to reduce our monthly bills. In today's post, we will highlight how we did it and how much we've saved. We'll also talk about what we've learned over the years.
Cathy is the primary author. I add my two-cents worth here and there. This month (October 2019), we cut another big chunk from our expenses. It never gets old!
How We Cut Our Monthly Budget
As you'll read in today's post, Cathy is the detail person who tracks the spending and savings.
But first things first. Though not impossible, it will be hard to cut your expenses unless you have a personal budget.
Track your living expenses from month to month to know where your money is going. Making smart decisions about money is easier if you know how much money is coming in and going out every month.
Here's our story of what we altered our spending habits and how much our total costs went down.
Decluttering
Hello everyone. It's Cathy, Fred's wife. I love saving and making money. Though this first topic isn't part of our monthly budget-cutting ideas, it did put a lot of cash in our pockets. And it was a lot easier than we thought (especially for Fred).
When Fred started his blogging campaign, I started reading the articles on saving and cutting expenses. Nothing excites me more than saving money, finding innovative ways, and ideas on how to save.
Back in the day, I loved using paper coupons (I know, old school). One of my favorite things when we first married (going on 36 years), was to clip coupons out of the Sunday paper and place in my little coupon divider before heading to the grocery store. I grew up on very little. Early on, I learned how to save and be frugal.
After reading a couple of blog articles, I decided it was time to approach Fred about selling stuff we've had sitting around the house for years. In other words – to declutter. You have to understand. My husband hates change! He's resisted this plea to declutter for years. To my surprise, this time, he agreed!
I almost went into shock!
The biggest shocker was he let go of over half his books. Mind you; he had four bookshelves full. We are now down to two! I wrote about our decluttering in an earlier article. I brought in $3K from selling stuff! I'm still on the bandwagon of selling items we don't need, but it's been slow-moving lately.
Cash made from decluttering – $3,000
Fine-tuning the Budget
My focus has been on cutting our monthly budget. I reviewed our budget from the beginning of the year to now. I was amazed at how even the most straightforward items cut or paid off have saved. I'm sure some of you will say, it's not rocket science, but I'm psyched about it.
Groceries
Our grocery bill here in the DMV (DC, Maryland, Virginia) is ridiculous! What a sore spot when trying to eat healthily or even gluten-free. Fred has his office at home. To get out of the house, he went out to lunch. A lot! When we looked at the budget and what he was spending, he decided to quit going out for lunch. I had already stopped going out for lunch at work, mainly to watch my food and calorie intake every day.
Lunches out (or any meal for that matter) in the DMV are expensive. We figured his eating out would average around $10/lunch. Places like Chic Fil A (one of Fred's favorites) are less. Others are more.
Monthly budget savings – $200/mo.
Meal Planning
On Sundays, I began preparing great lunch options for both of us. That helped him with the lunches out. Here's a quick analysis of how much we've cut on the grocery budget since January.
We usually plan and cook our meals for the week on Saturday and Sunday. Saturday is meal planning and list-making. We will either shop on Saturday or Sunday to get the items on our list. Meal planning has helped us save a lot of money. It cuts out most of the trips to the store to pick up extra things we forgot. That brings a surprising amount of additional savings to the budget.
We cook for the week on Sundays. We share in the weekly meal prep. Fred loves to cook in the smoker and on the grill. When he does this on Sundays, it accounts for two or three meals for the week. I cook soups, some Mexican dishes (tacos or enchilada) that accounts for a couple of meals. On nights we cook during the week, it's usually salmon or fish that we can prepare quickly.
Food Cost Savings
For many of you reading the following numbers, you will be shocked. I've read accounts from other bloggers about their grocery bills. At those rates and in less expensive parts of the country, our budget could feed a family of six. Out here, it's crazy. Your zip code matters when it comes to cost.
Sperling's Best Places Cost of Living index for Reston Virginia is 155.5, compared to the National average cost at a 100. It's expensive, even shopping for groceries at Trader Joes, Aldi, etc., which we do. Reston is not a cheap place to buy anything, especially housing or food.
When we looked back over our food budget for 2017, the average came in at $1,437/mo. During the first nine months of 2018, we averaged $1,087/mo.
Monthly budget savings – $350/mo.
We feel pretty darn good cutting our food budget this much. However, we're still working on ways to slim it even lower.
2019 update – Our food costs are down to around $600/mo. Every month we look at our grocery spending and meal planning, looking for ways to cut further. A great new store moved into our area. Sprouts Farmers Market is now our go-to store for almost everything. Fresh produce, which we always got at Whole Foods for the quality. We now get our produce at Sprouts at prices significantly less than what we were paying.
We think we will likely cut our expenses down even more, going forward.
Unnecessary Spending
Next, we looked to find other areas of overspending.
Fred loves his music. He was spending around $30/mo.buying music on iTunes. He also had subscriptions for Pandora and Spotify. (As an aside, the Spotify saved probably $20/mo. over the iTunes spending). We were even paying for Sirius XM radio in both cars. We stopped the contracts on our Sirius for a yearly savings of $780 or $65/mo.
Why do you need Sirius when you have Pandora or Spotify on your phone? Not sure where our heads were when we picked that up.
Monthly budget savings – $95/mo
Fios vs. Alternatives
For many households, ours included, TV and mobile phone service make up a substantial monthly expense. We knew we were spending way too much for both but had the standard two-year contract to get all the bells and whistle discounts with the package. How many of us get locked into these kinds of deals?
The cable bill can get out of hand. We rarely watch local or, for the most part, even most cable TV channels. At the end of the evening, we'll often watch Shark Tank or a rerun of a comedy series. Mostly we spend time watching movies, or a couple of favorites like This is Us or Criminal Minds. Fred, of course, watches sports.
Our Verizon TV, internet, and phone bill were around $230 a month. The package included a required home phone (which we never used or answered), high-speed internet (which I need), and the TV package. Fred did his homework to find ways to lower the costs without sacrificing what we both wanted.
He got the internet for $64.99/mo. He bought a Roku HD connection for a one-time $69.99 fee (which you don't need if you have a Smart TV) and YouTube TV for $40/mo (now $49.95). We get everything we wanted and stopped paying for what we didn't. We have Netflix, Amazon Prime, and numerous other options, both free and optional, paid add-ons (which we don't use).
Our monthly bill went from an average of $230 to $105.
Monthly budget savings – $125/mo.
Pet Insurance
We have two beautiful Akitas named Titus and Kaylee. If your guessing who's the boss, and you guessed Kaylee, you got it right. The female rules!
After three other dogs that we had to put down from old age and cancer, we decided to purchase insurance on the pups this time. The coverage was great during their younger years. The company we started with changed the coverage. It was less coverage for the same premium. Fred went to work shopping for another option.
As we get older, we pay more for insurance. It's the same for pets. Before we switched a few years ago, we were paying around $130/mo for both dogs. When we changed to another company, our cost only went up a couple of dollars to $132, and we had much better coverage. A few years later, at renewal, it jumped to $147/mo. The reason they gave (which is always the same) was that costs and claims in our area had gone up substantially.
A $147 a month for (2) dogs, totals $1,764 a year. When we calculated their remaining life expectancy, we realized it would be more expensive paying for the insurance than saving for any significant vet bill.
After a bad experience with our last dog and cancer, we will not spend money on cancer treatment. That was a horrible experience. Nor will we run all kinds of tests on them like we did our first dog. We brought him home for five days with an IV. Fred and I slept in shifts around the clock with him on the floor. That was hard on the dogs and us. We won't do that again. That helped us decide to drop the coverage.
Monthly budget savings – $147/mo.
Car Payments
A few years ago, we refinanced both cars at a lower rate and a much shorter payment period. I realize some reading this are questioning why we ever borrowed to buy our vehicles. Reread the first paragraph of the post for the answer.
Because the interest rate was so much lower, the shorter payment period didn't increase the monthly payment. The payments went down slightly. We have now paid off both cars.
We have two Kia's, a 2012 Sorento, and a 2011 Optima. Not sure if you know that Kia provides a 100,000-mile warranty on the drive train and engine. That warranty comes with the car. Of course, they offer an extended warranty. We declined.
We purchased a Kia Optima, and we've had a few problems with it. However, we have not had to pay any out of pocket on it except for tires and breaks. When we took it in for regular service, they told Fred it was out of oil. There were no oil marks in the parking place.
A week or so later, while driving to work, I heard a very noticeable clicking sound in the engine. We took it to the dealer to have it checked. The dealerships told us there was a factory defect in the piston construction of some 2011 Optima's that caused them to burn oil. The result – a brand new engine for our Optima. Zero out of pocket dollars! We think Kia rocks!
Monthly budget savings – $680/mo. ($320 Optima, $360 Sorento)
The Cell Phone Bill
It's Fred here. I'll take this section about the mobile phone bill.
Like most people, it seems, we got stuck in what seemed like a never-ending cycle of two-year contracts for our cell phones. All of the major carriers, Verizon, ATT, Sprint, and many others, want to lock you into those two- year plans.
I knew there were other options, but we couldn't do anything until our Verizon contract expired. At long last, it expired in September 2019. I'll let Fred take it from here.
I'd learned we could have the Verizon mobile network, which we loved and didn't want to lose without the two-year commitment. I'd read that Total Wireless offered Verizon service with no contract. We could keep our existing phones and transfer service. Or we could buy new phones and switch the services. Our last bill from Verizon was $235. For the first time in our time with Verizon, we had additional data charges. We had a ten gig plan and went slightly over, so it added $15 to our bill for September. Typically, our monthly bill was $218.
That's cringe-worthy now that I know the alternatives.
The New Plan
Initially, we switched to Total Wireless. They offer a two-line plan for $60/mo. The plan includes unlimited nationwide talk, text, and data. The first 30 GB of data is high speed. After that, it's at 2g speed. Our average data usage in our old plan was under 5 GB a month for both of us, except last month. We don't do a lot of video streaming on our phones. We rarely use hot spots. So, the plan is a perfect plan for us.
When we first started the plan, it was great. We started having trouble with online internet access on our phones. That's when we found out about their customer service. I've seen bloggers raving about their customer service. Most of the bloggers touting that were affiliates for Total Wireless and got paid when people signed up. Yup. Bloggers do that a lot. Most disclose it. Many do not. But I digress.
When I tried to get things fixed, it was a nightmare. When COVID shut down businesses, the customer service was even worse. I realize that many companies outsource their tech support. Many times the support people are in another country. During COVID, they worked from their homes. When I called and finally got someone, I could barely understand them. And I'm not joking about this. The last person I talked to had roosters crowing in the background as we were talking. I could never get the issue resolved.
Back to Verizon
After that experience, I began looking for other options. I checked the major carriers (Verizon, ATT, Sprint, T-Mobile). Verizon always came out on top for customer service. Their network seems to have the most extensive range, though others claim to have a similar service range. I've always been happy with Verizon, so we came back to them.
We got unlimited talk and text and a minimal data plan. Most of our internet usage is at home on our Wi-Fi network. If we hit the road in our RV next year, that will change. For now, this is everything we need. We currently pay $60/mo for each line, plus $15/mo for my iPad line. With taxes and fees, the bill is $148/mo. It's much higher than the $60 Total Wireless bill. The service is better, the phone internet is faster, and it's worth every penny.
Adjusted Monthly budget savings – $87/mo
Back to Cathy.
Continued Budget-cutting
In April 2020, we sold the townhouse we lived in for tw
enty years. The northern Virginia market has been very good to us. After selling the house, we are now completely debt-free. We downsized to a two-bedroom condo on a small lake. I have coffee every morning with one of my Akitas on the balcony. We now rent instead of own. It's an incredibly freeing feeling not having to worry about upkeep and maintenance, especially taking care of a back patio, flower beds, and a front-yard full of perennials, a walkway, and other things to maintain.
When we originally wrote this post, we were on the path to where we now find ourselves. It's been a remarkable journey. The plan for next year is to purchase a truck and travel trailer (or 5th wheel if Cathy has her way) and hit the road.
The budget savings you will see below do not reflect the sale of the house and our current monthly budget. We have cut our expenses in half and are now saving over 50% of our income. Life is good!
Coffee on the balcony with Titus.
Putting It All Together
We were serial overspenders for years. It took a crisis in the family, much later in life than it should have, to cause us to pay closer attention to our finances more seriously. Here are the ingredients to be successful. Once again, these are not new concepts. They are pretty simple. As I've said many times, just because something is simple, it does not mean it's easy. Here's a summary list:
Pay attention to personal finance and manage your money.
Start with the basics – add your monthly income and subtract your fixed expenses.
Create a budget using budgeting software – it will help make it much more manageable.
Avoid overspending and credit card debt – credit card debt is a budget buster.
Track your expenses aggressively – that's how we cut so much from our budget.
Look for cheaper options for the same services. Look at wants vs. needs. Focus on essentials and look at the wishes you can cut.
Spend your money wisely – avoid the impulse buys on things you think you can't live without.
Have money set aside for emergencies – keep the emergency fund in a savings account with easy access. That keeps the unexpected expenses off of the credit card.
Stay on track – that takes discipline. You'll be surprised how good it makes you feel to cut expenses and save money. The more you cut, the more you want to cut.
Do planning and budgeting as a part of your routine.
Final Thoughts
It took us a long time to get focused on our monthly expenses the way we are now. The effort has been worth it. Here are the totals for the year: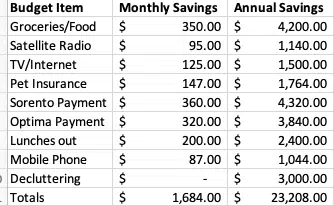 As you see, this is not a small amount of money. The declutter cash was a nice bonus. To us, it's money that we didn't have, and I wanted to account for it, even though the focus is on how to cut expenses drastically. These short term changes lead to long term success. In most cases, taking some simple steps (meal planning, eating out, etc.) can have a dramatic effect and help you save money – a lot of it!
You'd be amazed at what you might find in savings if you went through your budget this way. I'm sure many who are reading this are already doing most, if not all, of these things. It was an eye-opening exercise for us. I have to say, we're pretty proud of what we've accomplished in the last year.
We've changed the way we think about budgeting. It's made us more aware of the little things we do with our money that can add up to a high cost.
We've always talked about money together. Now, our conversations about money are more meaningful. Now, we continuously look for ways to save money. Rather than drudgery, as it was before, we now look at it as a fun exercise. As we said, we're slow learners. The lesson – it's never too late to start.