Such APUs are aimed at competing with Apple M
The release of processors based on the Zen 5 architecture is still quite far away, but the first data on this subject are already beginning to appear on the Web. The author of Moore's Law is Dead shared information regarding the mobile solutions of the Ryzen 8000 line (the name has not yet been confirmed), and some of this is very impressive.
In particular, the description of the Strix Halo line (alternative name – Sarlak) at the moment looks a little fantastic. In the top configuration, this APU will have 16 processor cores and a GPU based on the RDNA3.5 architecture with … 40 CUs. That is, the iGPU will have 2560 stream processors! Recall that the Radeon 780M with 768 RDNA 3 stream processors is catching up with the mobile GTX 1650 in performance. For comparison, the mobile RX 7600M XT and RX 7700S each have 2048 stream processors. The source adds that such an iGPU will be able to compete with the mobile RTX 4070 Laptop Max-Q. True, the TDP of such processors can reach 120 watts.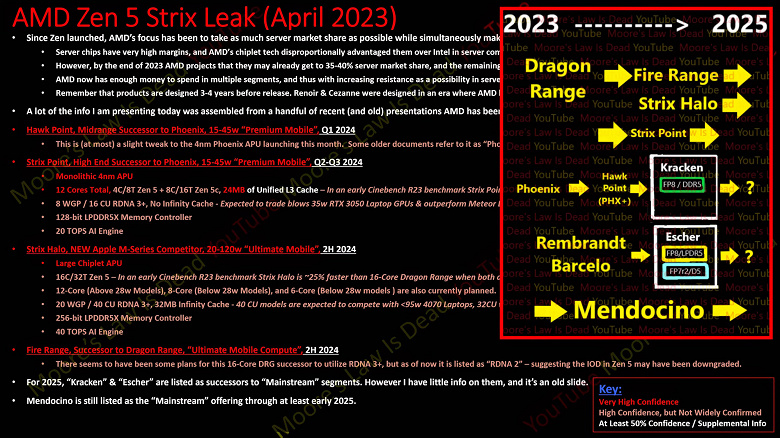 AMD, is this even possible?
Such unusual for PC mobile APUs will appear for a reason. It is reported that the Halo / Starlak line will be aimed at competing with Apple M single-chip systems. That is, laptops with such processors will not require discrete graphics cards. It remains to be added that such APUs will be released in the second half of 2024.
Another mobile line will be Strix Point. This is an APU with a TDP of 15-45W and heterogeneous processor cores. In the maximum configuration, such APUs will receive four Zen 5 cores and eight Zen 5c cores. iGPU based on RDNA 3+ will receive up to 16 CU units, that is, up to 1024 stream processors.
`
The top line, but only in terms of the processor part, will be the Fire Range. These APUs will also offer up to 16 processor cores, but the iGPUs are likely to be much simpler than Halo/Starlak and based on the RDNA 2 architecture.