Simply change the thermal interface and apply it correctly
At least one model of the Radeon RX 7900 XTX graphics card was found to have another overheating problem. In this case, we are not talking about reference cards, but about the PowerColor RX 7900XTX Red Devil, which is considered one of the top versions of the AMD flagship. 
The author of the portal Igor'sLAB decided to look into the reasons for the numerous complaints of the owners of these cards and indeed discovered the problem. And the most banal one: it turned out that the cards had poorly applied thermal paste on the GPU.  
Because of this, the heat from the core is transferred to the cooling system unevenly, which leads to a situation where the temperature of the hottest point of the GPU is 30 degrees higher than the average temperature! This is even more than in the case of problematic reference versions. 
And again Radeon RX 7900 XTX problems.
A simple replacement of thermal paste with the right application has proven to solve the problem easily. Firstly, the average GPU temperature dropped by 5 degrees, and secondly, the temperature of the hottest point decreased by 15 degrees.  
`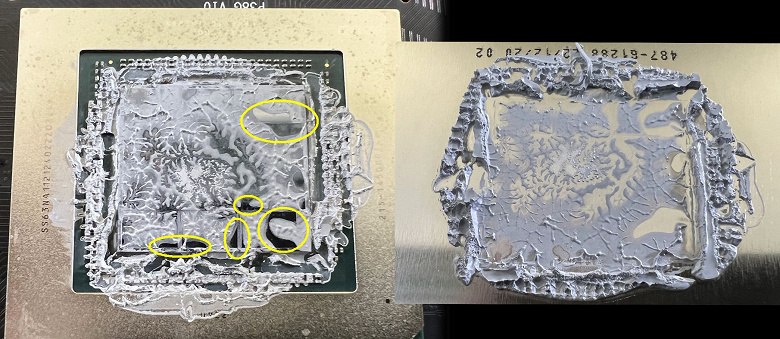 The important thing is that PowerColor has already contacted the author and thanked him for his help. 
We've discovered an issue on our production line that causes some cards to have warmer hotspot temperatures than usual. We have seen this happen with a small percentage of total production and we are already in the process of replacing thermal paste. Thanks to a new contribution from IgorLabs, we are also testing whether changing the way the cooler is attached to the card improves thermal performance. We are working to resolve this issue as quickly as possible so that our customers receive only the highest quality products. 
In general, the problem with overheating of the RX 7900 XTX made a lot of noise at one time, and then they quickly forgot about it. As was the case with the RTX 4090 fire.