Even Cyberpunk 2077 can be played at 1440p
The performance of the Asus ROG Ally portable gaming console is enough to run any modern game at least with minimal graphics settings and at 720p, although in most cases you can set either medium settings or increase the resolution to Full HD. The authors of the Eta Prime channel decided to check if the set-top box can handle WQHD and 4K UHD resolutions.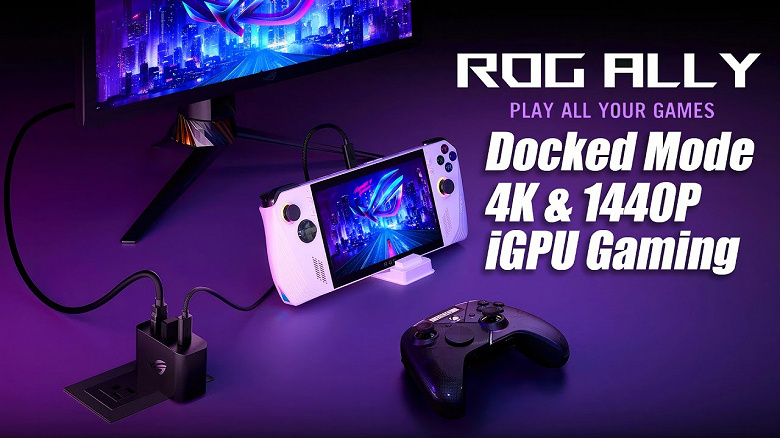 To do this, the console was connected to a docking station and a monitor. It turned out that the power of the Ryzen Z1 Extreme, which became a technical copy of the Ryzen 7 7840U, is enough in this mode, although not always with a number of reservations. 
For example, Dirt 3 works in 4K even at medium graphics quality settings with a performance of 50-70 fps. Skyrim at the same resolution at low settings shows a stable 60 fps, that is, the settings can be increased. You can play Counter-Strike: Global Offensive at 1440p at high settings and get 80-130 fps.  
Asus ROG Ally portable console handles many games even in 1440p and 4K
Once brought to its knees by any Crysis PC, but in the form of a Remaster version, in Full HD at medium settings it runs at about 60 fps. The modern reincarnation of Crysis in the form of the ultra-demanding Cyberpunk 2077 in Full HD at low settings demonstrates 60-70 fps, and even at 1440p the performance is enough to block the game at 30 fps. 
`
Thus, if desired, ROG Ally can be used as a replacement for a gaming desktop PC even without an external video card and not only in Full HD. Of course, you need to come to terms with the restrictions, but not everyone plays exactly the most demanding modern games.