Company roadmap leaked online
The Intel roadmap, which describes the company's future graphics solutions, has hit the Web.
To begin with, it is worth noting that the roadmap is clearly not the most recent, since it starts from the third quarter of 2022, but this is not such a long time, and besides, we see that the real release of the first generation Arc video cards just fit into this plan.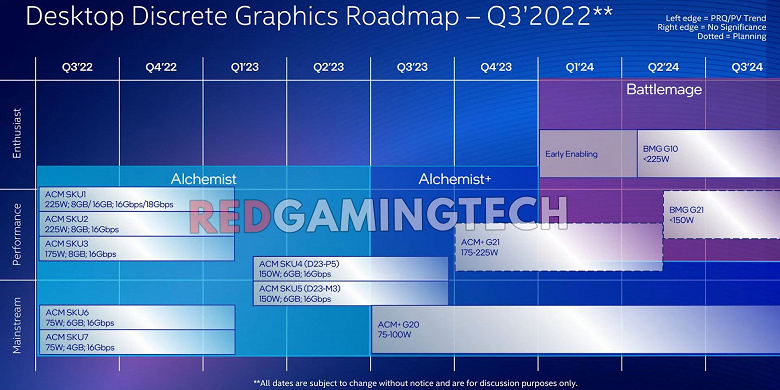 So, if we talk about new products, then the next generation of video cards with the code name Battlemage are expected around the middle of 2024. At the same time, as Raja Koduri said earlier, Intel will focus on mid-range solutions, which is clearly seen from the specified TDP.

However, Intel will not pass 2023 without new products at all. You can see that the company is going to release some Alchemist + cards, that is, some updated models of the current generation. They will not appear in all segments, and it is not yet clear what their differences will be. 
Also we are waiting for some Alchemist models with a TDP of 150W. Perhaps this is the same as yet unreleased Arc A580.