But RTX 4090 is out of reach
As we learned today, reviews of the Radeon RX 7900 video cards will be published on December 12th . But the first tests in normal benchmarks appeared today.

Both of AMD's new products lit up in 3DMark. Unfortunately, in the Fire Strike and Time Spy tests, which are quite old, it is still much better than the results in Geekbench. 
True, the results of AMD's new products themselves look debatable. In Time Spy at 4K, there is almost no difference between the RX 7900 XTX and RX 7900 XT, and both cards perform roughly on par with the GeForce RTX 4080.  
In Fire Strike, the younger RX 7900 XT is already successfully fighting the RTX 4080, and the older RX 7900 XTX is about 10% faster. Relative to the RX 6950 XT, AMD's new flagship provides a gain of 25-30%, which is rather modest. And this can be written down as a minus for AMD's new products, especially against the background of the catastrophically more powerful RTX 4090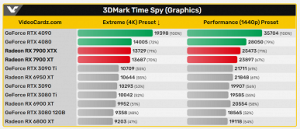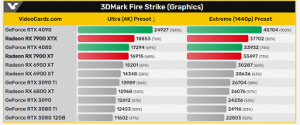 However, it is worth remembering the prices. The RX 7900 XT, which in both tests is quite suitable for a direct competitor to the RTX 4080 in terms of performance, is cheaper than the Nvidia card by $300 or 25%! And against this background, the lag behind the RTX 4090 is completely irrelevant. And if you calculate the ratio of performance and price, AMD's new products look much better than the same RTX 4090, not to mention the RTX 4080.  
Of course, in games the situation may be somewhat different, especially since these 3DMark tests are very old. But here it is worth noting that, if you look at the comparison of the RTX 30 and RX 6000 cards, the balance of power roughly corresponds to what the cards show in games.