She has 1 TB of flash memory
Xiaomi 13 Ultra has been on sale in China for several weeks, but only now its top version is on sale – with 16 GB of RAM and 1 TB of flash memory. Finally, in terms of data storage, the flagships of Xiaomi and Samsung caught up.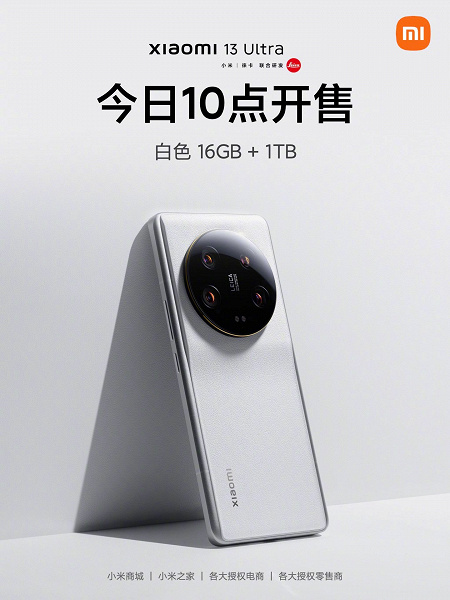 Finally Xiaomi 13 Ultra reached the level of Samsung Galaxy S23 Ultra.
Interestingly, the top Xiaomi 13 Ultra is presented in white. The price of the smartphone is 1060 dollars. For comparison, the base Xiaomi 13 Ultra with 12 GB of RAM and 256 GB of flash memory costs $870, while the pre-top version with 16/512 GB of memory is offered in China for $940.
Recall that the "trick" of Xiaomi 13 Ultra is in its Leica camera, in which, in addition to the 50-megapixel Sony IMX989 sensor, there are three more 50-megapixel Sony IMX858 sensors. EGF of four lenses – 12, 23, 75 and 120 mm. Xiaomi 13 Ultra is built on SoC Snapdragon 8 Gen 2, equipped with one of the best OLED screens in the world with a diagonal of 6.73 inches, a resolution of 3200 x 1440 pixels and a frame rate of 120 Hz. It also received a 5000 mAh battery and IP68 protection.