It all depends on power limits.
It has long been no secret that mobile video cards are very dependent on power limits, and the conditional GeForce RTX 3060 Laptop can be faster than the RTX 3070 Laptop. A fresh review of the Acer Nitro 5 laptop allows you to understand what the fastest version of the RTX 4050 Laptop is capable of against many competitors.
Recall that the mobile RTX 4050 Laptop has 2560 CUDA cores, 6 GB of memory and only a 96-bit bus. At the same time, its TDP can lie in the range of 35-115 W with an additional increase thanks to GPU Boost. In the case of an Acer laptop, we are talking about a maximum power limit of up to 140 watts.
GeForce RTX 4050 Laptop with 96-bit bus not far behind RTX 3080 Ti Laptop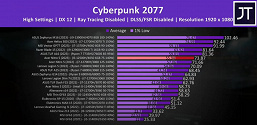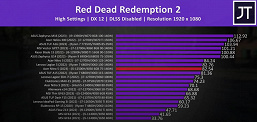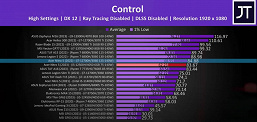 As you can see, in this form, the base RTX 4050 Laptop, which, recall, is the youngest mobile adapter in the line, successfully competes with the RTX 3060 Laptop with the same power limit and is about 70-80% ahead of the RTX 3050 Ti Laptop in 85W mode . What's more impressive is that it's quite a marginal difference from the 110-watt RTX 3080 Ti Laptop, which is the flagship of the last generation. Yes, this is far from the most powerful version of this model, but this once again shows that the model of the video card in a laptop plays a far from decisive role. Recall that the RTX 4050 Laptop has only a 96-bit bus.
`
It can also be noted that the 45-watt version of the RTX 4050 Laptop lags behind the 140-watt version by 30-40%. At the same time, this version successfully competes with the 110-watt RTX 2060 Laptop.
If we talk about absolute performance indicators, then the top modification of the RTX 4050 Laptop, despite its modest characteristics, is enough to provide 70-80 fps in Full HD at high settings in games such as Control and Cyberpunk 2077.  
It is worth saying that such a laptop with a Core i5-12500H and 16 GB of RAM costs only $ 1,000, so affordable gaming laptops have once again taken a fairly noticeable step forward.