Honor 80 will receive a new SoC Snapdragon 782G, which has not even been announced yet,

Smartphones will be presented on November 23
Honor is preparing to introduce a new line of its popular smartphones, and the base model Honor 80 will receive a platform that we have not even heard of before.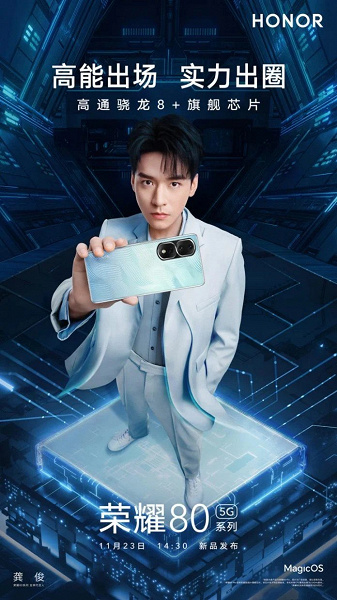 The Honor poster says that the new product will be based on the SoC Snapdragon 782G. What platform it is, we don't know yet. At the same time, Honor 80 Pro will be based on Snapdragon 8 Plus Gen 1.  
So far, one can only guess about the parameters of the Snapdragon 782G. Now Qualcomm has the very popular Snapdragon 778G SoC and the newer 778G Plus, and the Snapdragon 7 Gen 1 has already been released. You can recall that the Snapdragon 780G was originally introduced, but from the very beginning, for some reason, almost nowhere appeared. Given the name, the Snapdragon 782G should be somewhat faster than the 778G, but in general they can be as close as possible. It is likely that Qualcomm needs the Snapdragon 782G to compete with the Dimensity 1080. 
Honor 80 is a stylish smartphone that is all set to steal your heart. If you invest in this smartphone, the first thing you would notice is its magnificent display. Also, if you want to use this device for prolonged vlogging, the 64MP main camera along with two other lenses and a 32MP Camera on the front is there for you. Other brilliant specs of the smartphone include a steady battery, a massive storage unit and robust RAM.