Previously, there were reports of processor lag
It seems that Intel still intends to release very important Meteor Lake processors this year.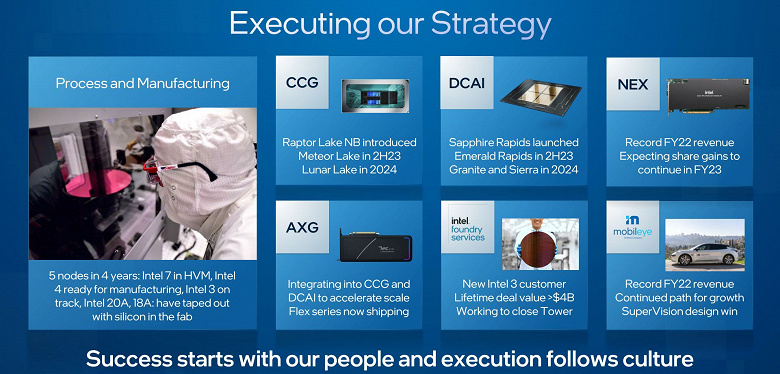 In the latest financial report of the company there is data on the nearest plans of Intel. Including it clearly states that Meteor Lake CPUs will be released in the second half of this year. Recall that earlier it was said for a long time that they would be released at the end of 2023, but recently an Intel roadmap appeared on the Web, where such CPUs were not indicated until the end of this year. In addition, there was also data on the problems that the company encountered in developing these solutions. Be that as it may, while the official plans of Intel remain.
The company also confirmed that Lunar Lake CPUs will be released in 2024. These are processors whose architecture is initially developed with an emphasis on energy efficiency. They will be released only in the form of mobile solutions.
The company also confirmed that Arc generation Battlemage graphics cards will be released next year.
Returning to Meteor Lake, we recall that these will be in many ways unique CPUs for Intel. Firstly, they should be the first to use the Intel 4 process technology, secondly, these will be the first consumer chiplet (or tile) CPUs, and thirdly, at least the GPU tile will be produced not by Intel itself, but by TSMC. True, according to leaks, there will be a maximum of six large processor cores in these CPUs, and because of this, new items will not be aimed at the upper segment.