The result is not in favor of the older model
The authors of the TechSpot resource decided to check whether it is worth paying extra for the GeForce RTX 4070 Ti compared to the RTX 4070. Recall that the first costs $ 800, and the second asks $ 600, that is, the first is 33% more expensive.  
As testing in a huge number of games (40 projects) showed, in terms of price and performance, the younger card looks much better, that is, overpaying for the RTX 4070 Ti from this point of view is not worth it. 
The older card is faster than the younger one by 16% in Full HD and by 19% in 2K and 4K. That is, in the first case, it turns out that the overpayment in price is twice the increase in productivity.  
Is it worth it to pay extra for the GeForce RTX 4070 Ti?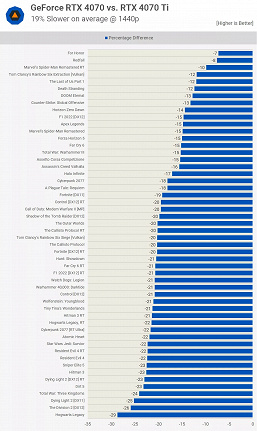 If we talk about absolute performance values, then, for example, both video cards cannot cope with Cyberpunk 2077 with ray tracing in 4K. Of course, there is DLSS, but that's another story. At the same time, at 2K, the difference between the adapters is quite large and just at the level of critical values. It can also be noted that in The Callisto Protocol in 4K with ray tracing, the RTX 4070 shows a minimum figure of 24 fps, while the RTX 4070 Ti is 37 fps.  
`
There are a few other games where the difference between the RTX 4070 and RTX 4070 Ti may not be that big, but it's important because the low end card just can't handle it. However, in general, in most games, both adapters perform well, including in 4K. Moreover, they have an identical memory subsystem with 12 GB and a 192-bit bus.