Last updated on May 2nd, 2023 at 11:59 pm
They should be out in April.
On the North American mirror of the Nikon official website, two new items were briefly lit up – full-frame mirrorless cameras Nikon Z8 and Nikon Z8x.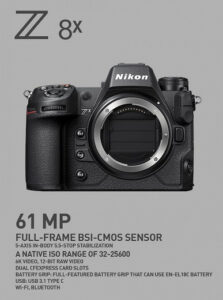 Later, the data about them was removed, but obviously not for long – a full-fledged official premiere is expected in April . As you can see, both will receive a 5-axis built-in stabilization system, support for 6K video recording, built-in Wi-Fi and Bluetooth adapters. The Nikon Z8 will have a 24MP sensor, while the Nikon Z8x will have a 61MP sensor.
`