At the level of Snapdragon 8 Gen 1
The single-chip Tensor G3 system, which will serve as the heart of the Pixel 8 and Pixel 8 Pro smartphones, lit up in Geekbench.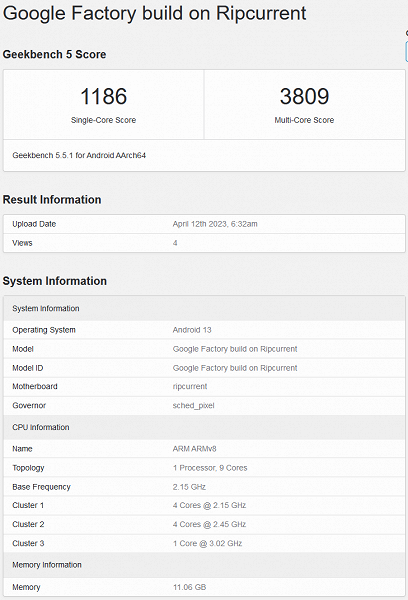 The software confirms recent rumors that the new SoC will have a nine-core CPU in a 1 + 4 + 4 configuration. According to the same data, we are talking about Cortex-X3, Cortex-A715 and Cortex-A510 cores. That is, it is already clear here that the new platform should be much faster than the current one. 
Pixel 8 and Pixel 8 Pro won't be as far behind the competition as the current generation.
And so it is. In the benchmark, Tensor G3 scores 1186 and 3809 points in single-threaded and multi-threaded modes, respectively. Tensor G2, for comparison, shows a result of about 1050 and 3200 points. 
Thus, the new platform performs approximately at the level of Snapdragon 8 Gen 1, which is much better than Tensor G2. However, it is not yet clear what the GPU of the new SoC will be.