Spider-Verse Inspires Unique Animation in TMNT Mutant Mayhem
When CG animation began to take hold following the release of Toy Story, there was a period where a lot of the movies looked quite similar. Little by little, the various animation studios added their own stylistic flourishes, but it wasn't until the release of Spider-Man: Into the Spider-Verse were it felt like there was a real mainstream departure from the previous style. Since the success of Spider-Verse, we've seen more animated movies embrace a unique style, including the recent Teenage Mutant Ninja Turtles: Mutant Mayhem.
While speaking with THR, Teenage Mutant Ninja Turtles: Mutant Mayhem director Jeff Rowe credited Spider-Verse with giving them more confidence in their style. "The first Spider-Verse really opened a lot of doors," Rowe said. "It really made it okay for studios to take chances on a film looking unique and maybe having a little bit more sophistication and emotional maturity in its storytelling. And it was such a seismic shift that it became expected. Suddenly, making movies that look like the style of CG animation over the past 30 years felt dated. And so they really paved the way for what will hopefully be a huge generation of new filmmakers with very unique expressions."
Jeff Rowe also didn't want to make a "grounded" Ninja Turtles movie, with dark and gritty versions of the foursome.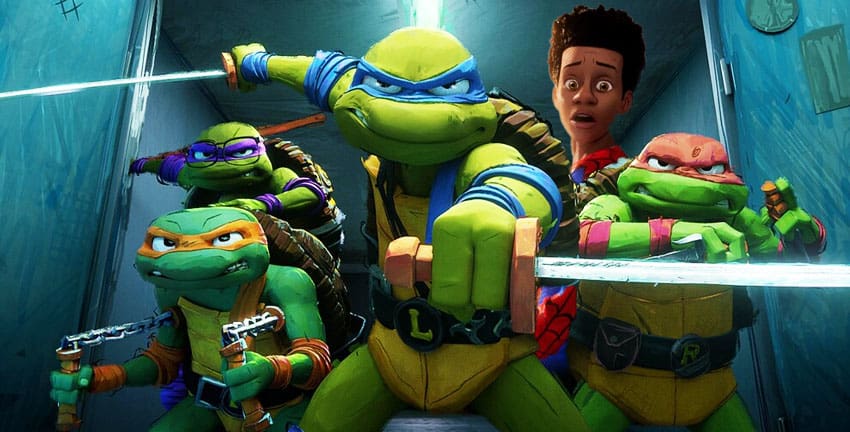 There's been a little bit of a trend with superhero films, and it probably really kicked off with Batman Begins, but it's to take the preposterous elements of the franchise and the lore and make them black and tactical and grounded and whatever the realistic version is. And so we had thought about that early on, like, "Okay, how would you actually strap a sword to yourself and do these things?" And we were like, "That's just not the Ninja Turtles. They're wacky. The designs are silly. That playfulness is what I loved about it as a kid, so let's embrace that. Let's be really grounded with New York, and then in an environment like TCRI, let's make it look like the Technodrome." It's a dated, aging technology environment anyway, so it kind of makes sense. And if we found a way to make the Pizza Van make sense, then there's definitely room to make a Turtle Blimp make sense within our own internal logic.
"After years of being sheltered from the human world, the Turtle brothers set out to win the hearts of New Yorkers and be accepted as normal teenagers through heroic acts," reads the official synopsis for Teenage Mutant Ninja Turtles: Mutant Mayhem. "Their new friend April O'Neil helps them take on a mysterious crime syndicate, but they soon get in over their heads when an army of mutants is unleashed upon them."
`
Teenage Mutant Ninja Turtles: Mutant Mayhem features the voices of Nicolas Cantu as Leonardo, Brady Noon as Raphael, Micah Abbey as Donatello, and Shamon Brown Jr. as Michelangelo. The film also stars Jackie Chan as Master Splinter, Ayo Edebiri as April O'Neil, Seth Rogen as Bebop, John Cena as Rocksteady, Hannibal Buress as Genghis Frog, Rose Byrne as Leatherhead, Ice Cube as Superfly, Post Malone as Ray Fillett, Paul Rudd as Mondo Gecko, Maya Rudolph as Cynthia Utrom, Natasia Demetrious as Wingnut, and Giancarlo Esposito as Baxter Stockman.
Teenage Mutant Ninja Turtles: Mutant Mayhem is now playing in theaters, so be sure to check out a review from our own Tyler Nichols.