It is focused on the areas of education, industry and services
Shenzhen Kaihong Technology and Leju Robot have unveiled the world's first humanoid robot running HarmonyOS (aka Hongmeng).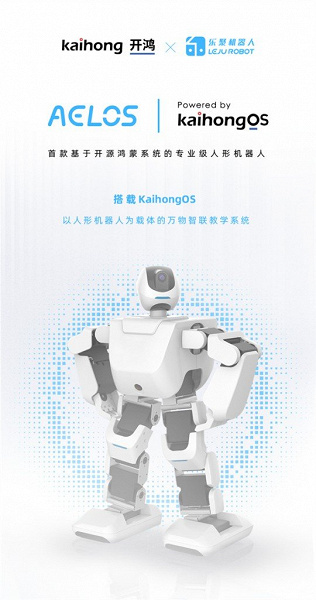 The first robot on HarmonyOS. Aelos humanoid robot based on Rockchip SoC introduced
The robot is called Aelos. It is reported to be a universal training system designed to improve education and research in various fields, including industry and services.
The robot is equipped with a fairly large set of sensors, including a blood oxygen sensor, heart rate sensor, temperature and humidity sensors, infrared thermometers, NFC, and more. Additionally, it has OLED displays and LED lights.
Manufacturers talk about 17 degrees of freedom, which allows the robot to perform various tasks. At the same time, apparently, the robot's performance is low, since it is based on an STM32 microcontroller and a Rockchip RK3568 SoC.
The system supports various programming languages, including C/C++ and JS/ArkTS. The creators of the robot emphasize that using an open source OS offers many advantages compared to proprietary systems
`