This is the first Turkish electric car
Turkish President Recep Tayyip Erdogan on Monday, April 4, officially became the first owner of the Turkish Togg T10X electric car, the deliveries of which started on that day.
Erdogan, accompanied by First Lady Emine Erdogan, was delivered a Togg T10X electric car model at a ceremony at the Presidential Complex in Ankara. Their all-electric C-segment SUV is painted Anadolu Red.
"Today, together we are witnessing the realization of the 60-year dream of our people," Erdogan said. According to Erdogan, the second car, delivered on Monday, will be used as a company car. Its color is called Gemlik, named after the blue waters of the area in which the Togg campus is located.
The owners of the first batch of T10X were selected by digital draw. Demand was so high that the automaker had to increase the number of units. The manufacturer will ship 20,000 vehicles in April, not 12,000 as previously planned.
"Today, together we are witnessing the realization of the 60-year dream of our people,"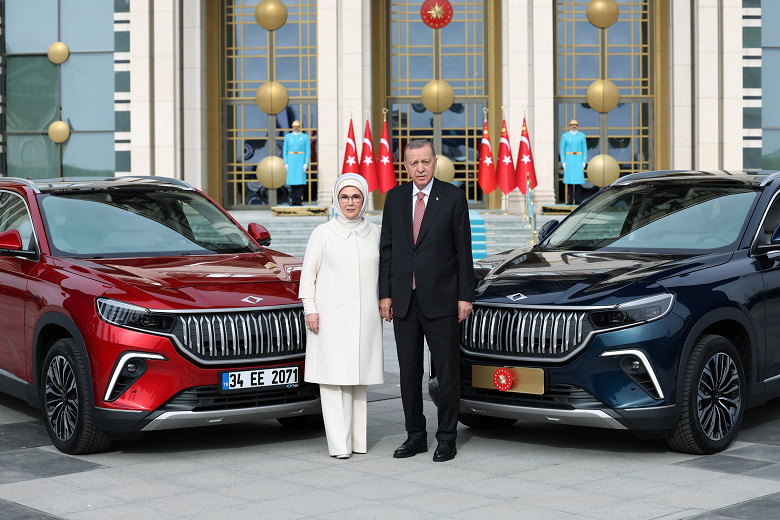 Over 177,400 people pre-ordered the car in just 21 days. Deliveries are scheduled to begin in the coming days. The second delivery should be made to Erdogan's Azerbaijani colleague Ilham Aliyev.
`
The Togg T10X is built on its own modular platform. Its dimensions are 4599 x 1886 x 1676 mm with a wheelbase of 2890 mm. Tesla Model Y is larger: 4751 x 1920 x 1624 mm with a wheelbase of 2891 mm. The luggage compartment volume of the Togg T10X is 441 liters, and if you fold the second row, it will increase to 1515 liters.
Togg T10X will initially be sold with one engine and two battery options: 52.4 kWh and 88.5 kWh with a range of 314 and 523 kilometers, respectively. The first version of the T10X can sprint from zero to 100 km/h in 7.6 seconds, while the second, which will start shipping on October 29, can hit 100 km/h in 4.8 seconds. The first model costs from 49.6 to 63.5 thousand dollars.
Togg T10X batteries from 20% can be charged up to 80% in less than 28 minutes at fast charging stations.
By 2030, the brand plans to produce 1 million vehicles in five segments.