He has been working continuously for more than 107 days.
It is generally accepted that in the modern world, computer components become obsolete in general very quickly. In some segments it is faster, in others it is slower. However, sometimes it turns out that a 40-year-old PC may be suitable for quite modern tasks. As it turns out, the Brutman Labs site relies on a 39-year-old IBM PCjr web server.  
At the heart of this PC is the NEC V20 processor with a frequency of 4.77 MHz! In addition, it has 736 KB of RAM at its disposal. But the drive there is quite modern: it is a 240 GB SSD. 
Web server based on a 40 year old PC with a 4.77 MHz processor.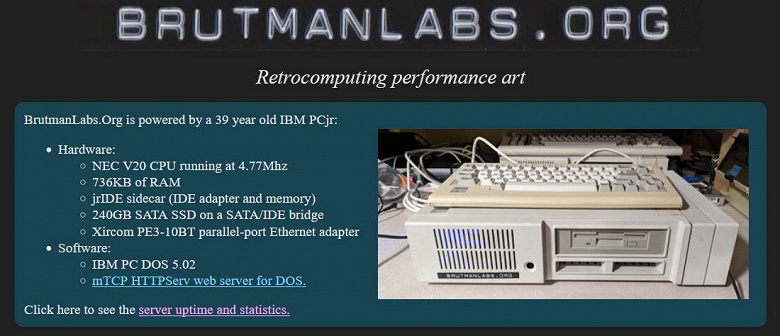 Interestingly, at the time of this writing, this web server has been running continuously for 2576 hours, that is, more than 107 days. 
Of course, the Brutman Labs site itself is as primitive as possible and even then it doesn't work very fast, but still, the 40-year-old PC at the core is still impressive.