But the average price even in the case of AMD exceeds 600 euros
According to statistics compiled by TechEpiphany and analyzed by 3DCenter, in Germany, the average selling price of GeForce graphics cards is 202 euros higher than Radeon cards. The data, apparently, is based only on the sales statistics of the Mindfactory chain of stores, but this is a very large and the largest chain in Germany. 
Gamers spend more average on GeForce graphics cards than Radeon adapters
The average price of a Radeon adapter in 2023 was 606 euros, while for GeForce cards it is 812 euros. Of course, the German data cannot be projected to other countries, but at least in this country the old rule that adapters with a price of about 200-300 dollars are the best-selling ones has apparently not worked for a long time. 
It's worth noting that the price gap between Radeon and GeForce is clearly at least partly due to the fact that AMD's most expensive graphics card costs just over 1,000 euros, while GeForce's is over 1,600 euros.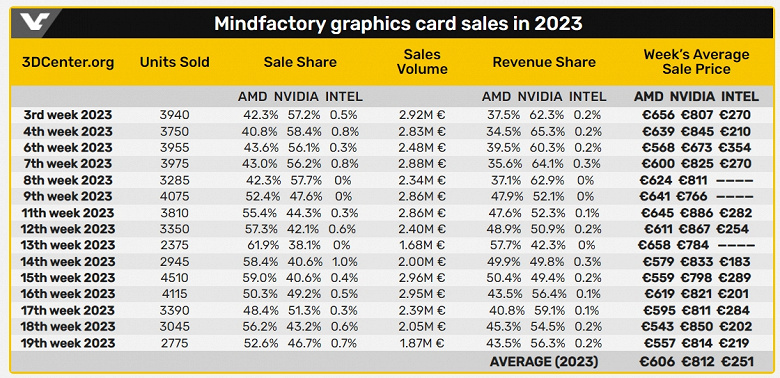 You can also see that, at least in the Mindfactory network, the shares of AMD and Nvidia cards in total sales are constantly changing, but in general they are not far from the 50/50 balance. The share of Intel video cards usually does not reach even 1%.  
`