These are the competitors of Epyc Genoa and Bergamo
Intel fully introduced the Max Series server processors, which it originally announced back in November, but then many details were left behind the scenes. Now all the cards are revealed.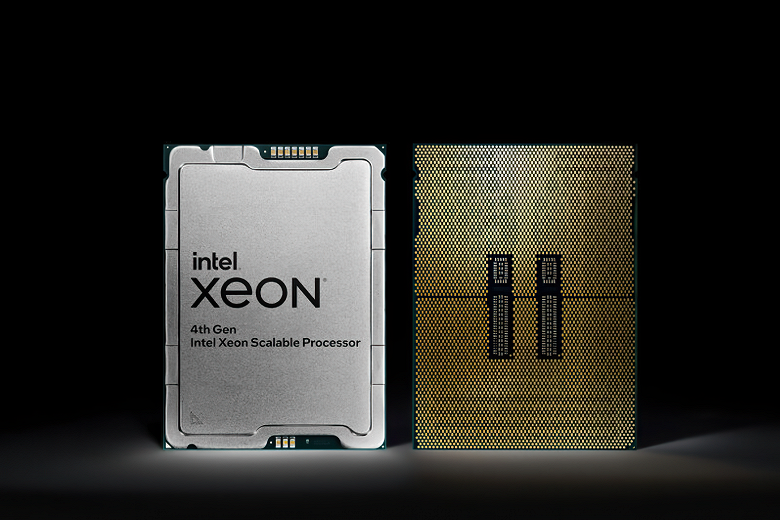 So, we are talking about the fourth generation of Xeon Scalable CPU, which is called Sapphire Rapids. At the same time, the generation itself includes a huge number of processors divided into different classes, and the Max Series line is actually only one of the classes, and not the oldest and far from the most extensive. Therefore, in general, we will not talk about the Max Series separately, but about the entire Sapphire Rapids line.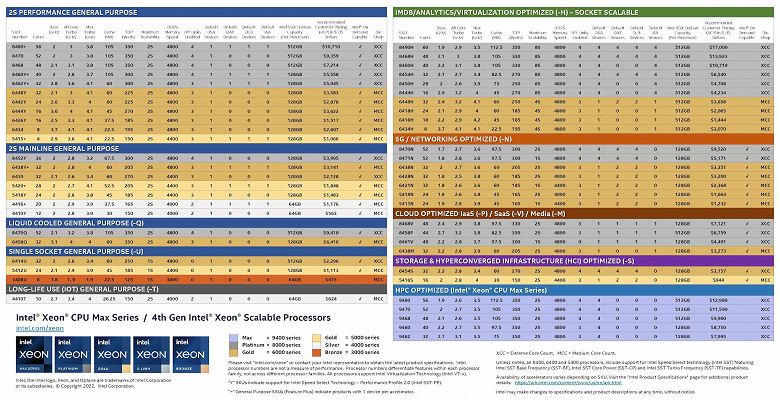 So, this is a long-awaited and very late generation of server CPUs relative to Intel's original plans. It is based on the Golden Cove architecture and is manufactured according to Intel 7 standards, that is, according to the 10-nanometer process technology. Some Sapphire Rapids models have native HBM2e memory up to 64 GB. At the same time, the novelties have a chiplet design and consist of four tiles, although this does not apply to all models.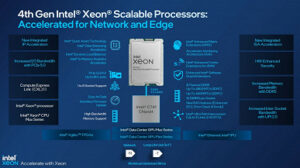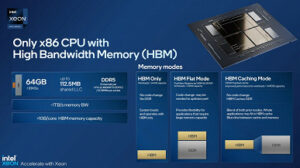 Despite the fact that previously all leaks and rumors spoke of a maximum of 56 active cores with a physical presence of 60 cores, this turned out to be only partly true. 60 cores are available exclusively in the Xeon Platinum 8490H model, there are also two models from other classes where 56 cores are available. In other cases, there are even fewer nuclei. It can also be noted that the maximum TDP value within the entire line is 350 W, and the amount of cache memory in the third level is a maximum of 112.5 MB. All new items support DDR5-4800 memory and PCIe 5.0.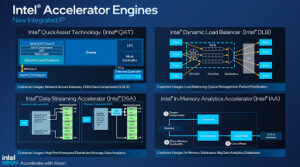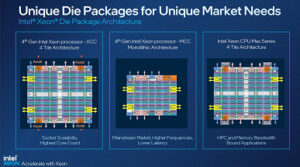 Relative to the previous generation, the new items look very impressive. Intel talks about the following features: 
+ 53% average performance gain in general purpose computing 

Up to 10X faster AI inference and learning performance 

Up to 2x capacity for vRAN workloads at the same power range (5G vRAN) 

Up to 2x faster data compression with 95% fewer cores (network and storage) 

Up to three times faster performance in Data Analytics 

Up to 3.7x performance improvement for memory-bound workloads in HPC (Xeon Max CPU series)

Intel Xeon
Intel's new products will compete with Epyc Genoa processors , older versions of which offer 96 cores, as well as with the upcoming 128-core Bergamo. On the AMD side, there are many more cores on the CPU, a more recent architecture, a thinner process technology and a significantly lower price. So for the 96-core Epyc 9654 they ask for less than $12,000, while the 60-core Xeon 8490H is priced at $17,000. On the Intel side, there is a larger selection of CPUs for different segments and support for multiprocessor configurations. The same Xeon 8490H can be used in systems with eight CPUs, while AMD solutions only support dual-processor systems