The new line will carry up to 800,000 passengers per day
Turkish President Recep Tayyip Erdogan on Sunday, January 22, opened a new high-speed Istanbul metro line connecting the city center with Istanbul Airport, which was named the busiest in Europe in 2022.
Turkish Minister of Transport and Infrastructure Adil Karaismailoglu previously said live that the metro line to Istanbul Airport will be the fastest metro in Europe with a speed of up to 120 km/h.
The 34 km metro line marks the city's first rail link to Turkey's largest airport and one of the world's largest airports. Erdogan said that thanks to the new metro line with a capacity of 800,000 passengers per day, it is now possible to reach Istanbul Airport from Kägythane in 24 minutes.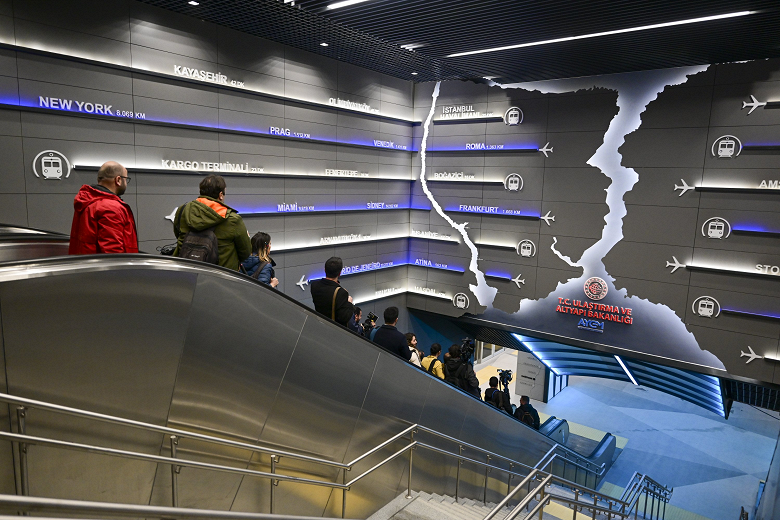 Officially opened at the end of October 2018 and then fully operational in April 2019, Istanbul Airport is considered the busiest airport in Europe with an average of 1,156 flights a day last year.
The President also noted that the signaling system of the newly opened metro was produced by the leading Turkish defense company Aselsan in cooperation with the Scientific and Technological Research Council of Turkey (TUBITAK).
Turkey also plans to connect a high-speed rail line between Istanbul and Ankara to the metropolitan area's two airports. The project, which will link the railway line to Sabiha Gokcen Airport on the Anatolian side and Istanbul Airport on the European side of the city, is nearing the tender stage.