2 km across
The US Aeronautics and Space Administration NASA boasts an intriguing new find on the surface of the Red Planet. The photo was taken on December 12, 2022 by the NASA MRO (Mars Reconnaissance Orbiter) multifunctional automatic interplanetary station using the HiRISE (High Resolution Imaging Experiment) camera. The picture shows a funny formation on the surface, most of all resembling a bear's face. The whole formation is about 2 km across.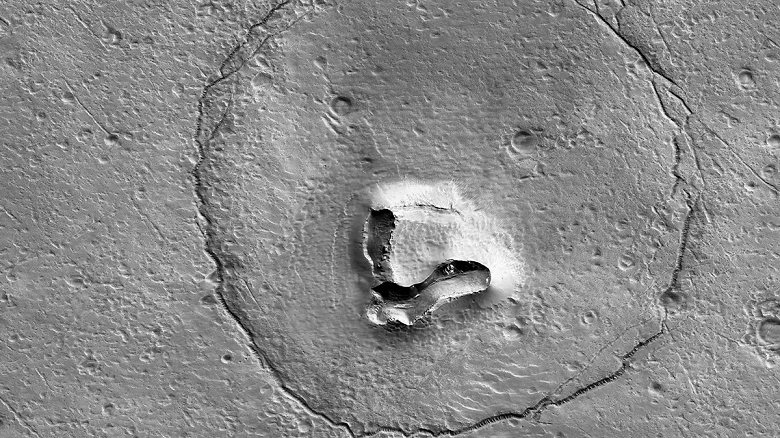 The HiRISE camera was developed by Ball Aerospace & Technologies under the leadership of the University of Arizona and Lunar Planetary Laboratory in Arizona. University scientists released the photo as "Snapshot of the Day" on Wednesday, January 25, 2023. The note says:
Bear on Mars? These features are slightly reminiscent of the muzzle of a bear. What is it really? There is a hill with a V-shaped collapse structure (nose), two craters (eyes) and a circular fracture pattern (head). The circular pattern of destruction may be related to sediment settling over a buried impact crater. Maybe the nose is a volcanic or mud outlet, and the deposits could be lava or mud flows?