In terms of price and performance, the Radeon RX 6950 XT is a better buy.
AMD has introduced a new version of its proprietary 3D accelerator performance rating. It serves as a good guide for those who are currently considering buying a new 3D card from AMD – looking at the rating, it is easy to determine the most suitable model in terms of price-performance ratio at a certain resolution.
At 4K resolution equal to the latest flagships RX 7900 XT and RX 7900 XTX, no, but the Radeon RX 6950 XT is only 7% behind the RX 7900 XT and costs $200 less (based on suggested retail prices). For games at 2K resolution, the Radeon RX 6800 is better suited – the price is only $ 80 higher than the RX 6750 XT, but the performance difference is significant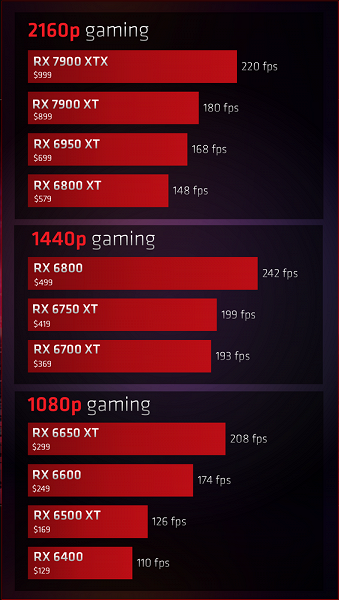 The rating does not include the Radeon RX 6900 XT, but its performance difference with the Radeon RX 6950 XT is minimal, but prices may vary, since the Radeon RX 6900 XT is no longer available and there are very few of these video cards left in the warehouses
In general, based on the overall rating and official AMD calculations, the Radeon RX 6950 XT will be a better buy if we consider the top options.