And more RTX 4060
The Radeon RX 7600 graphics card should go on sale on May 25th. We already know most of the parameters, but today the missing details appeared on the Web. 

For example, TBP (whole card consumption) will be 165W, which is more than the RX 6600 (132W) and RTX 4060 (115W). True, at the same time, the novelty should be  a third faster than its predecessor . 
Popular Radeon RX 7600 is completely declassified.
The reference GPU frequencies have also become known: 2250-2625 MHz. As a result, with 2048 stream processors, the performance of the RX 7600 will be 21.75 TFLOPS. For comparison: the RX 6600 had a figure of 8.93 TFLOPS, but this does not mean that in games between adapters the difference will be more than twofold.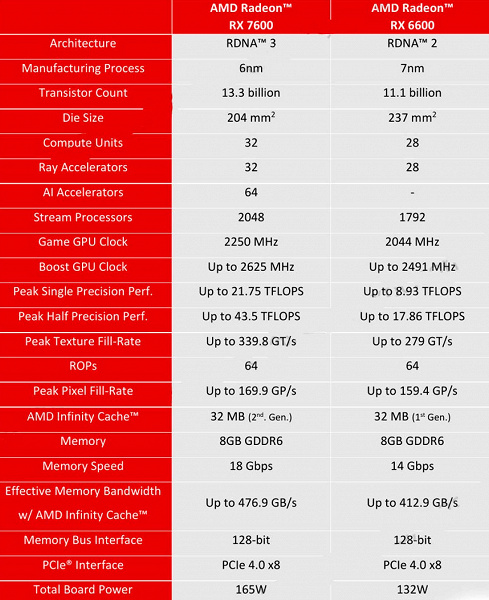 The adapter has also been confirmed to have 8 GB of 18 GHz memory with a 128-bit bus and 32 MB of Infinity Cache.  
`
According to the latest data, AMD's new product could cost $300.