We expect the first smartphones in a couple of weeks
Qualcomm introduced the very new platform of the Snapdragon 7 line, which we recently talked about. True, all the assumptions regarding its name turned out to be wrong, because it is called not Snapdragon 7 Plus Gen 1 or even Snapdragon 7 Gen 2, but Snapdragon 7 Plus Gen 2 at once, which is somewhat strange, given the absence of the usual 7 Gen 2 on the market.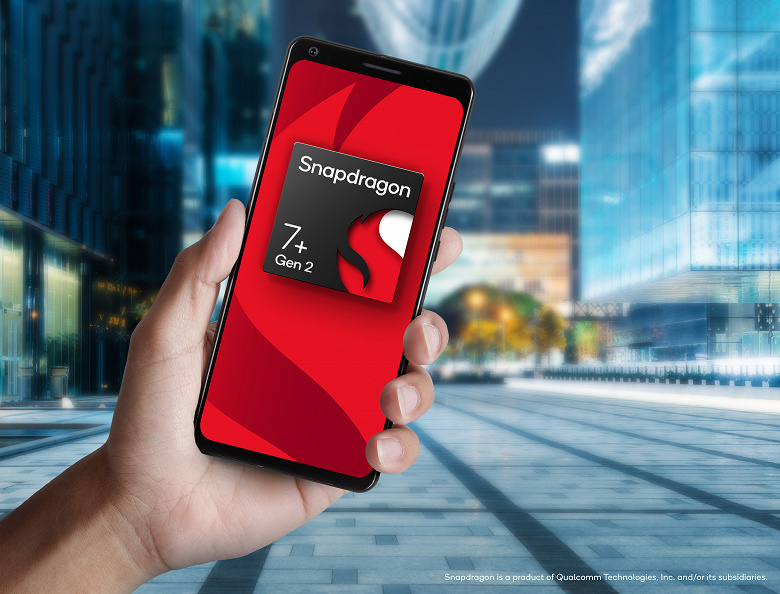 The name, perhaps, should demonstrate how much faster the new platform is Snapdragon 7 Gen 1. And it really is much faster. Qualcomm itself is talking about a 50% increase in CPU speed and a twofold increase in GPU performance! In fact, we have a variation on the Snapdragon 8 Gen 1 theme, since the main characteristics here are the same or about the same. 
Qualcomm unveils Snapdragon 7 Plus Gen 2 SoC, which is very similar to Snapdragon 8 Gen 1
The processor part of the new platform contains one Cortex-X2 super-core with a frequency of 2.91 GHz, three Cortex-A710 cores with a frequency of 2.49 GHz and four Cortex-A510 with a frequency of 1.8 GHz. There is no data on the GPU, except for the performance gain.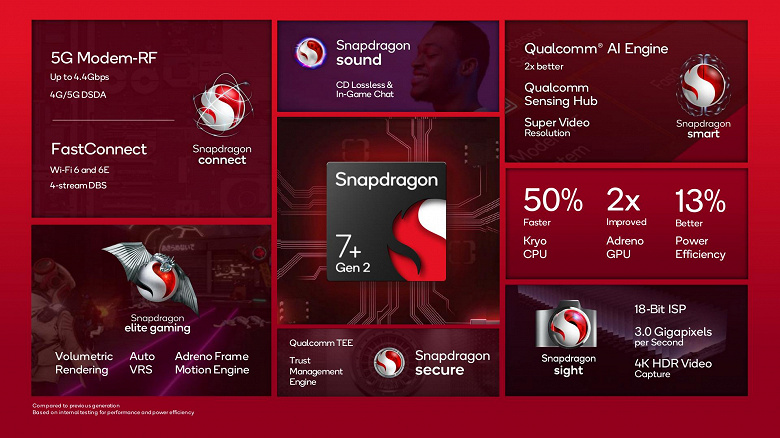 From the rest, we can highlight the Snapdragon X62 5G modem with data transfer rates up to 4.4 Gb / s, support for 200-megapixel cameras, 4K screens, LPDDR5-3200 memory and UFS 3.1, as well as 4 nm manufacturing process.  
Qualcomm itself hasn't shared exact performance data, but early leaks point to 1M AnTuTu points. For comparison: Snapdragon 7 Gen 1 is gaining about 550,000 points, and 1 million is the result of the same Snapdragon 8 Gen 1. 
What is important, the first smartphones based on the new platform will be released at the end of this month.