IceGiant ProSiphon Elite cooler used
The monstrous 96-core Ryzen Threadripper PRO 7995WX processor has set another record. More precisely, several at once.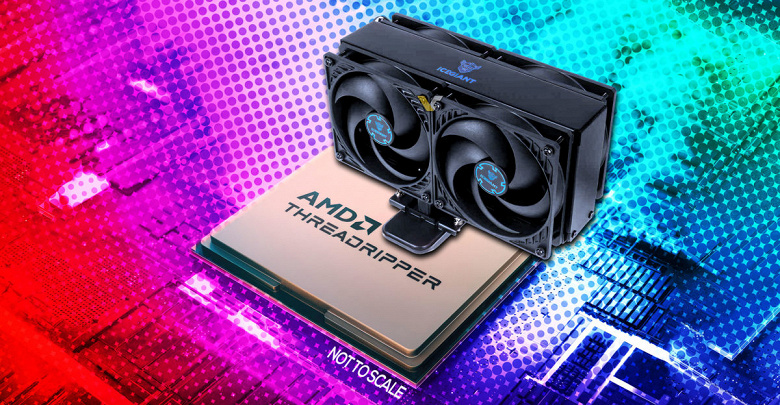 The author of three records was overclocker Sampson. He was able to achieve record results in three versions of Cinebench, but not just like that, but using air cooling! Yes, there are coolers that can tame AMD's 350-watt monster. In this case, the giant IceGiant ProSiphon Elite was used , which weighs more than 2 kg and is not just a radiator, heat pipes and fans. The cooler is based on a two-phase cooling system with a dielectric liquid without any pumps or pumps. The principle of operation is exactly the same as in the case of conventional heat pipes: near the CPU, the liquid heats up, evaporates and rises up to the radiator, where it cools, condenses and falls back to the processor. Everything happens under the influence of gravity, so apart from replaceable fans there is nothing that could fail.
Ryzen Threadripper PRO 7995WX, consuming almost 1 kW, set three records, and with an air cooling system

350 W, which appears in the characteristics of the Ryzen Threadripper PRO 7995WX, is not even close to the values ​​​​that were achieved during the overclocking process. After increasing the frequencies and voltage, the processor consumed an incredible 980 W! And here the performance of IceGiant ProSiphon Elite can really be called impressive. At the same time, the processor heated up to 102 degrees at its peak.  
The results that were achieved by the enthusiast significantly surpass anything that was available before the release of the new Threadripper. For example, in Cinebench R23 in multi-threaded mode the result was more than 161,000 points, and before that the record was more than 123,000 points, and it was installed on a system with two 48-core Epyc 9474F.