SK hynix has already provided samples to customers
SK hynix today announced the development of the world's fastest mobile DRAM LPDDR5T (Low Power Double Data Rate 5 Turbo) and provided samples to customers.
LPDDR5T RAM operates at 9.6 Gb/s data transfer rate, which is 13% faster than LPDDR5X introduced in November 2022. To emphasize the maximum speed of the product, SK hynix added the letter T, which stands for Turbo, to the name.
The LPDDR5T operates in the 1.01V to 1.12V extra-low voltage range specified by the Joint Electronics Technology Council JEDEC.
The company pushed the technology to new heights just two months after LPDDR5X, an 8.5Gbps mobile DRAM specification, was introduced to the market in November 2022. We will strengthen our leadership in the mobile DRAM market by providing products with different storage capacities to meet customer needs.
                                                                                                           SK hynix
`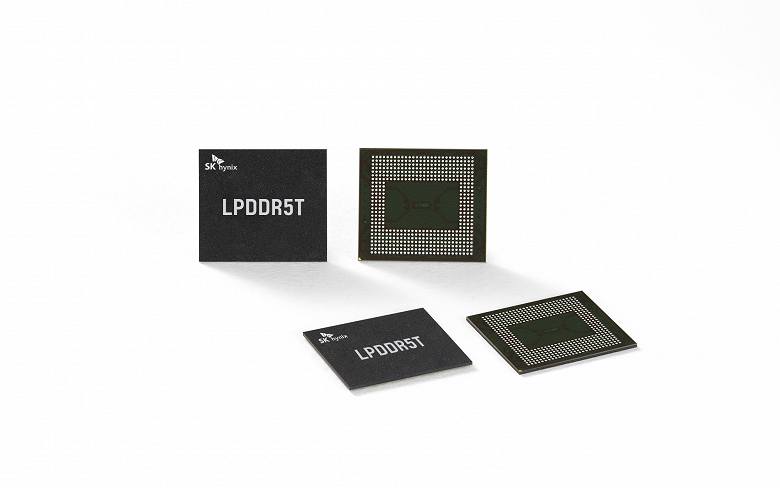 SK hynix said it provided customers with 16GB memory samples. SK hynix plans to begin mass production of LPDDR5T using 1anm, the fourth generation of 10nm technology, in the second half of the year.
SK hynix expects the application of LPDDR5T to expand beyond the smartphone industry to include artificial intelligence (AI), machine learning, and augmented/virtual reality devices.
With the development of the LPDDR5T, the company has met customer demand for ultra-high performance products. We will continue to develop technologies to lead the next-generation semiconductor market and change the rules of the IT world.
                                                                                                                SK hynix