Subscribers can only view content in Channels, not post it
The WhatsApp team has announced the launch of a new feature for the popular messenger. Channels (Channels) became available to users. As the developers note, this is a simple, reliable and confidential way to follow important news from people and organizations without leaving WhatsApp. 
Channel admins can post content to them, including messages, photos, videos, stickers, and polls. Subscribers, on the other hand, can only view content in Channels, but not publish it.  
Subscribed channels are located separately from chats and communities on the new Relevant tab. WhatsApp has created a catalog of channels with local government news, content about sports, hobbies and more. You can go to the desired channel through a catalog search or through an invitation sent in a chat, sent in an email, or published online.
WhatsApp introduces Channels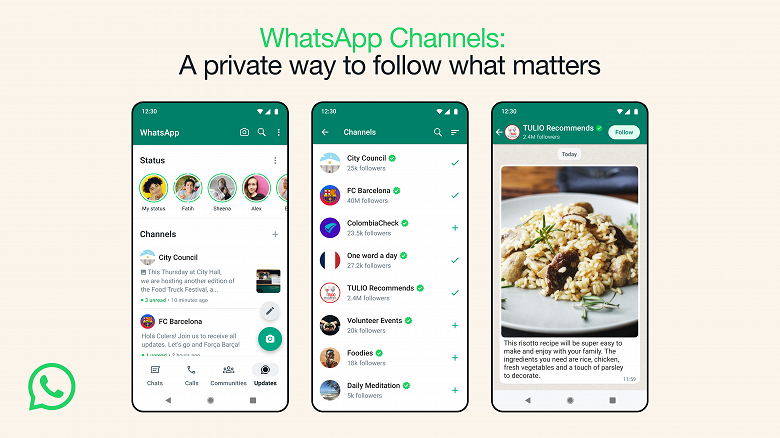 Great attention in "Channels" is given to privacy. The admin's phone number and profile photo are not visible to followers, and subscriber's phone numbers are hidden from everyone in the channel, including admins. In addition, no one will see which channels the user is subscribed to. Posts in the channel will be kept for a maximum of 30 days and then deleted. The developers plan to later add the ability to delete posts from subscribers' devices before the 30-day period expires. 
Admins will be able to prevent capturing screenshots while viewing a channel and forwarding content from it, as well as control who is allowed to subscribe to their channels and hide their channels from directory searches. 
`
First of all, "Channels" appeared for the world's leading media and some organizations in Colombia and Singapore. In the coming months, they will appear in other countries, and any user will be able to create them.