Probably, we are talking about Redmi K60 Ultra
As expected, Xiaomi is ready to introduce a new Redmi smartphone. Lu Weibing, President of Xiaomi Group and General Manager of the Redmi brand, posted a poster saying that the announcement will take place tomorrow, August 3rd.
The poster asks the following question: "When will Android phones be able to get out of the endless involution of parameters?" Involution is a reverse development, a backward movement.
Lu Weibing also confirmed that representatives from MediaTek and Pixelworks will attend the conference. The latter produces processors and software for image processing.
Xiaomi will introduce the new Redmi on August 3rd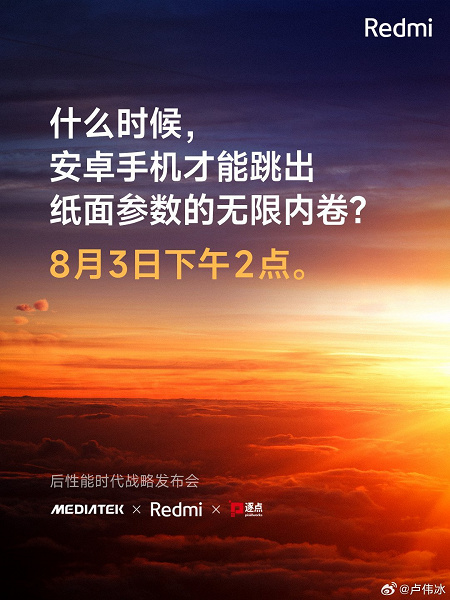 Presumably, the new smartphone will be Redmi K60 Ultra, which will receive a MediaTek Dimensity 9200+ single-chip system and will become the most affordable smartphone on this platform.
Redmi K60 Ultra is expected to have a flat screen with a tiny bezel. The screen resolution will be 1.5K with support for refresh rates up to 144 Hz. The smartphone will receive a 5000 mAh battery and 120 W wired charging support.
`