It will be equipped with a built-in battery with a capacity of 5000 mAh and support for 15-watt charging
Samsung is preparing to launch a new Galaxy M series smartphone. According to official information, Samsung will introduce the Galaxy M04 model in India the day after tomorrow.
The phone's page on Amazon's website states that the Samsung Galaxy M04 will launch in India on December 9th and will be offered in blue and green colors. The phone will receive a teardrop notch in the screen, a dual camera, 8 GB of RAM (including RAM Plus technology) and 128 GB of internal flash memory.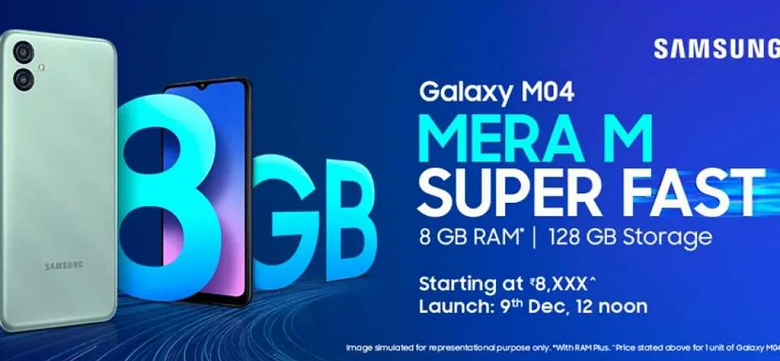 The Samsung Galaxy M04 has appeared in the Google Play Console database, which has confirmed that it will use an HD+ resolution display and run Android 12 with One UI 4.1.
The Samsung Galaxy M04 is expected to be equipped with MediaTek Helio G35 octa-core single-chip system, built-in 5000 mAh battery and 15-watt charging support.
According to the official poster, the Samsung Galaxy M04 will cost no more than Rs 8,999 or $109. Since the last three digits are hidden, we can assume that the price will be even lower.
`