We are also waiting for desktop Ryzen 7000 with iGPU on RDNA 3
AMD has confirmed for the first time that the next generation of its processors will be named Ryzen 8000. This is logical, but in the past the company has always limited itself to the name of the architecture. 

For new products, this will be Zen 5, which will coexist with RDNA 3.5 for iGPU. Such CPUs will be released next year. They will keep the AM5 performance, which, as AMD promised earlier, will be relevant until 2026.  
The company also says that its new CPUs will be available in the form of models with TDP from 65 to 170 W, that is, the next generation will not become more voracious than the current one. At least in terms of specifications. 
AMD told about plans for the future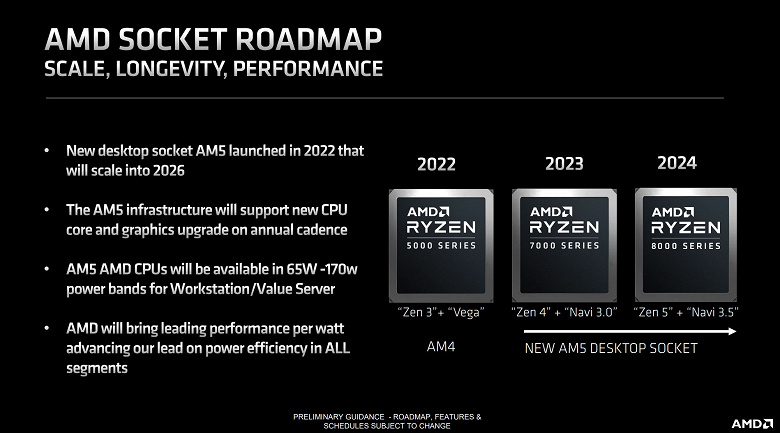 Another interesting detail is that this year AMD is going to release some Ryzen 7000 desktop processors with Zen 4 cores and iGPUs based on RDNA 3. We have not heard anything about this before. Apparently, we are waiting for the Ryzen 7000G, which will be a renamed mobile Ryzen 7040 with increased power limits.  
The information was shared by the insider @harukaze5719, who last year accurately announced the date of the announcement of the Ryzen 7000.
`