Ramesh Chauhan Owner of Bisleri Water Bottles.
India's most popular packaged water company Bisleri is going to be sold. Tata Group is about to buy Bisleri for Rs 7000 crore.
There were also companies like Nestle and Reliance in line to buy this company, but the owner of the company, Ramesh Chauhan, decided to hand over his company to Tata.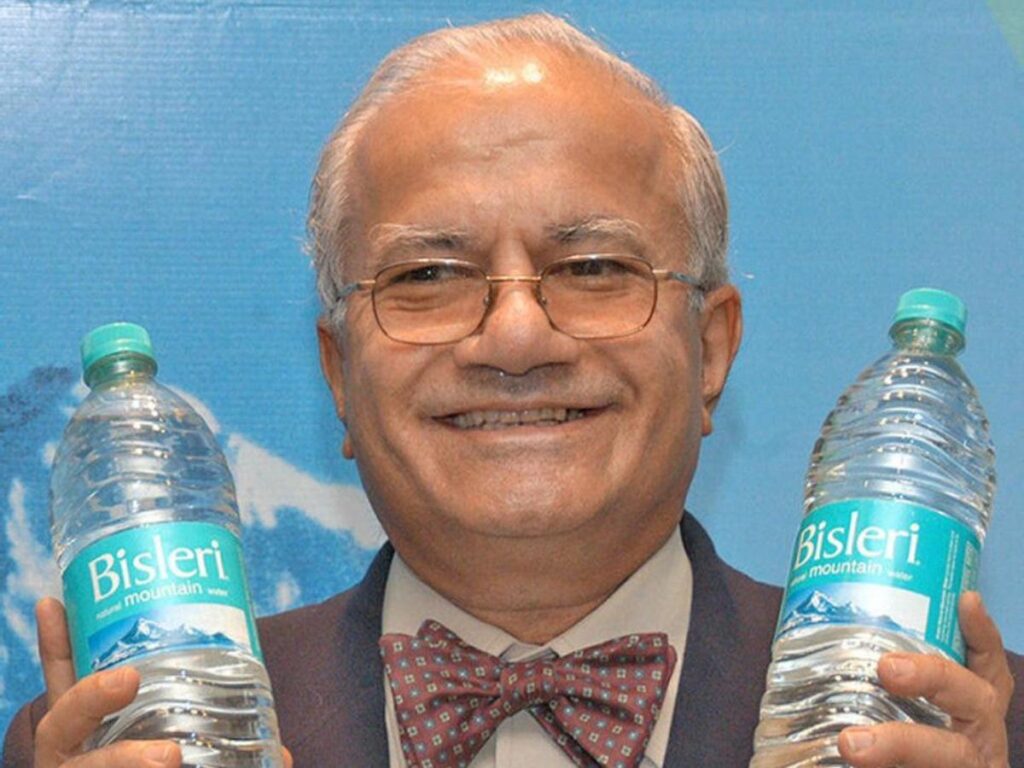 The decision to sell the company he had bought in 1969 for Rs 4 lakh was not an easy one. Ramesh Chauhan, 82, broke down during an interview with the Economic Times. He said that the company which I brought up as a child cannot be allowed to die.
Why Bisleri wants to sell Tata
Companies like Reliance and Nestle were in the race to buy Bisleri, but Bisleri decided to hand it over to Tata. The reason given by him for this decision is very emotional. He said that this decision is not easy for him, but he does not have any successor, who can take his company forward. 
His daughter Jayanti is not particularly interested in this business. Ramesh Chauhan said that he does not want to let this company die, so a decision had to be taken to sell it. Regarding handing over his company to Tata, he said that he knows Tata, and he is familiar with his work and honesty. He said that I like the respect of Tata culture and their values ​​​​about life.
`
He is confident that Tata, one of the oldest companies in the country, will take care of his company. 
Chauhan, 82, said that many big companies were aggressively ready to buy my company, but due to the trust of Tata, they decided to hand over the company to them. 
He said that in the last two years, I met Tata Group Chairman N Chandrasekaran and Tata Consumer CEO Sunil D'Souza several times regarding this deal, after which I was convinced that these people are very good and my company is better than me. Will take care of it properly.
What will I do with the money, I trust Tata
Ramesh Chauhan is very emotional about the sale of his business. He said that I have not taken this decision for money. I was worried about the future of the company. 
There is no one to handle the company, who will take care of it the way I have taken care of it. I have dedicated my life to building this company. 
When the interest of the daughter was not shown in this business, then I had to take this decision. I was not looking for money but people with the same passion to take my company forward.