All cards that changed their indicators abnormally have been corrected
Looks like there was either some kind of glitch in the Steam stats last month or some strange event taking place. At the end of March, statistics spoke of an increase in the share of the GeForce RTX 3060 from 4.36% to 10.67%, but now the figure has fallen back to about its original value: to 4.66%.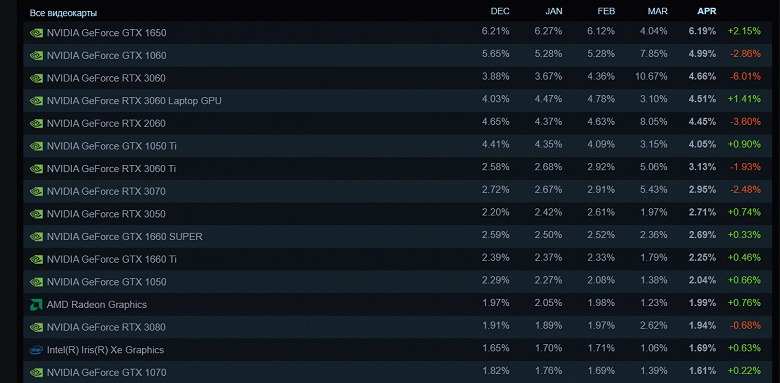 The indicators of other adapters, which showed abnormal growth or decline a month ago, corrected similarly. As a result, now the rating looks about the same as before March.  
GTX 1650 is back in first place.
That is, nominally the GTX 1650 remains the leader with a share of 6.19%, followed by the RTX 1060 with 4.99%, and the RTX 3060 closes the top three with 4.66%. But, as we have noted more than once, if we count correctly, then the RTX 3060 has long been the leader. The bottom line is that before the release of the RTX 30 line in the Steam database, mobile and desktop GeForce cards were always considered together. Thus, the GTX 1650 with 6.19% is the combined share of the desktop and mobile versions. And if you add 4.51% of the mobile card to the 4.66% of the desktop RTX 3060, then this adapter will lead the rating.