New details about the unusual Lenovo Yoga Paper tablet equipped with an E Ink screen have appeared on the Web.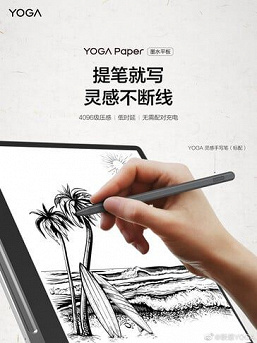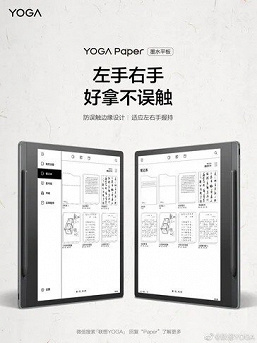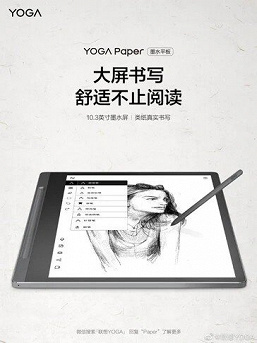 It became known that the novelty will receive a fairly large screen with a diagonal of 10.3 inches. The screen will have an adjustable backlight and support for a stylus with 4096 pressure levels. There will be a special place on the case to store the stylus.
Lenovo Yoga Paper – Lenovo Yoga Paper with large E Ink Tablet revealed
It is also reported that the thickness of the case will be only 5.5 mm. There is no other data yet, including it is not yet clear when the new product will be released, but it is expected that the tablet will initially appear in China.
Lenovo has launched a new E Ink device named the Yoga Paper tablet. This makes for a significant development considering that this marks the first time Lenovo has come up with a standalone E Ink device. Earlier, we have seen the company come up with the ThinkBook Plus dual-screen laptop with one of the displays being E Ink, and the other being a conventional LCD LED display. It used to be a 10.8-inch E Ink panel having 4096 levels of pressure sensitivity on the first gen ThinkBook Plus laptop. Lenovo followed that up with a larger 12-inch E Ink display on the second gen ThinkBook Plus.
Such a setup made sense as users could carry on with their normal tasks on the traditional display while using the E Ink display for reading or editing documents. However, Lenovo seems to have a change of mind in between and is no longer offering a dual-screen device, opting instead to launch a dedicated E Ink device instead.
From the images shared via Weibo, the Yoga Paper seems to have a squarish build with the display size being in the vicinity of 10-inch or so. Further, the display looks more like a monitor than an e-reader or tablet. Bezels on the top and sides are slim enough though the chin is considerably thicker. Plus, there is also a groove at the bottom for holding a pen, which again seems to remain attached to the recess by magnetic action.
`