Version with 16 GB of RAM and 1 TB of flash memory became the best-selling in China
Redmi Note 12 Turbo , the world's first smartphone equipped with a single-chip Snapdragon 7 Plus Gen 2 system, began selling  in China today. At the same time, sales of Redmi Note 12 Turbo Harry Potter Edition started  .
Key digital distribution platforms in China, including Jingdong and Taobao, said that within just 5 minutes, the 16GB RAM, 1TB flash version of the Redmi Note 12 Turbo set a historical sales record in the industry.
Redmi Note 12 Turbo has set a historical record in just 5 minutes of sales.
The small print indicates that the sales of this version in 5 minutes exceeded the total sales of all smartphones with this amount of memory over the same period of time. Specific values, as usual, are not reported.
In another post, Redmi added that the Redmi Note 12 Turbo smartphone was the top-selling smartphone in the $290 to $440 price range.
Redmi officials have confirmed that the entire launch batch of the Redmi Note 12 Turbo has been sold out instantly, with a new batch of 16GB RAM and 1TB flash smartphones going on sale on April 6th.
`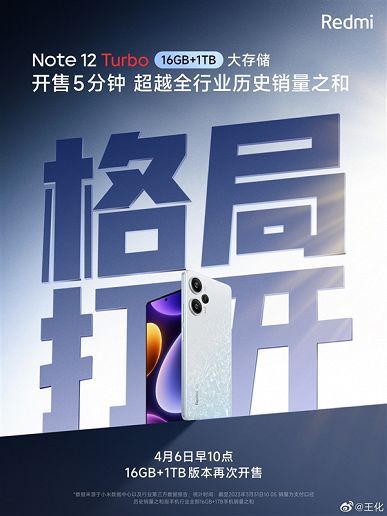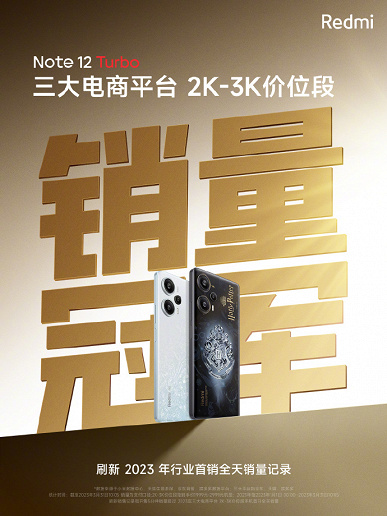 Recall, Redmi Note 12 Turbo received a 6.67-inch OLED screen with a resolution of 2400 x 1080, which supports an image refresh rate of 120 Hz, a PWM frequency of 1920 Hz. The battery capacity is 5000 mAh, there is support for 67-watt charging. The main camera with optical stabilization received a resolution of 64 megapixels.